MSE Trading Report for Week ending 11 October 2019
MSE Equity Total Return Index: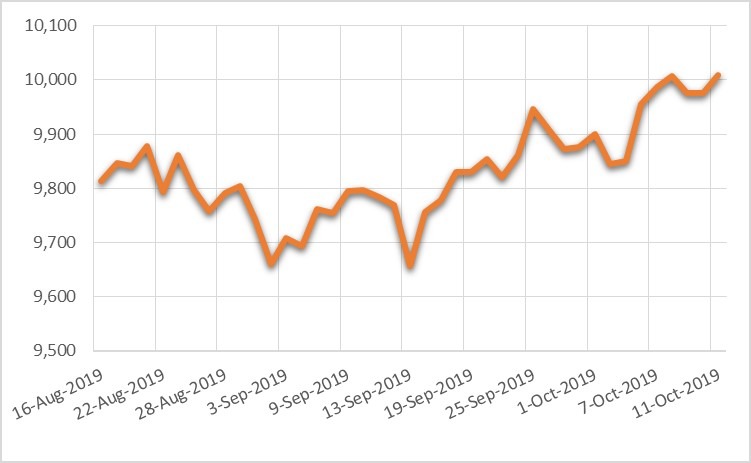 Chart of the Week: Simonds Farsons Cisk plc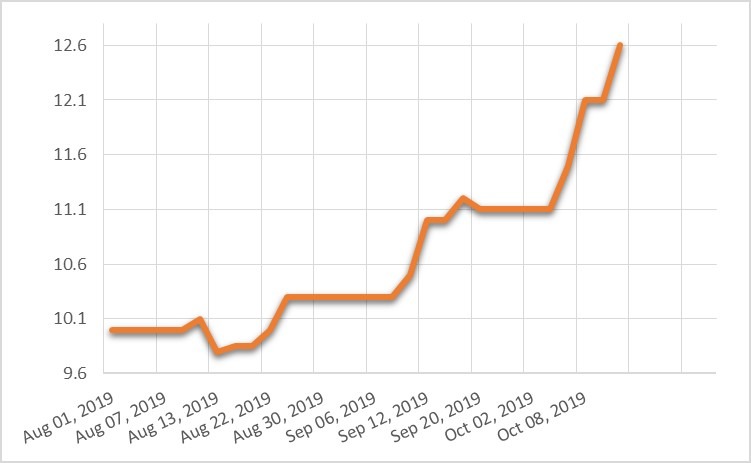 The MSE Equity Total Return Index ended the week almost unchanged at 9,906.713 points. Total active equities amounted to 20, of which five advanced while another ten closed in the red. A total weekly turnover of €2.17m was generated over 272 deals involving 1.8m shares.
All four banking equities were active, of which one headed north, two declined and one closed unchanged. Bank of Valletta plc was down by 3.45% to €1.12 as 49 deals involving 150,295 shares were executed.
On Thursday, HSBC Bank Malta plc announced its strategic plan with regards to the digitisation of banking services and modernisation of its branch network. The aim of this is to maximise the opportunities from the fast changing customer bank usage. Prior to the news the equity's price reached a three-week low of €1.35 as a result of 26 transactions involving 86,397 shares. No further price changes were recorded following the announcement.
FIMBank plc gained 1.61% as three deals of 60,000 share were executed on Monday.
On Monday, Malta International Airport plc announced their traffic results for September 2019. On the first day of the month, over 28,800 passenger movements was registered. The airport saw a total of 762,361 passengers during the whole month of September, resulting into a 7.8 per cent increase from the same month last year.
The equity's price registered a 2% rise as it closed at €7.65. During the week, 23,308 shares change ownership over 20 deals.
On Monday, Trident Estates plc announced the approval of the admissibility to listing on the official list of the Malta Stock Exchange. As a result of the rights issue, up to 12,000,003 new ordinary shares in Trident Estates plc with a nominal value of €1 each will be offered to shareholders on the register of the company at the Central Securities Depository as at October 4, 2019. Shareholders will be entitled to two new ordinary shares for every five ordinary shares, or parts thereof, held as at October 4, 2019, at a rights issue price of €1.25 per share. No trading was recorded during the week.
On the corporate debt front, 49 equities were active, of which 14 registered gains while another 17 closed in negative territory. The 6% Mediterranean Investments Holding plc Euro 2021 registered the highest rise in price of 2.30%, to close at €102.50.
In the sovereign debt market, 22 issues were active, of which 19 traded lower while another two advanced. The 2.2% MGS 2035 (I) headed the list of gainers as it closed 0.64% higher at €126.54.
Upcoming Events: 
Best Performers:
24 OCT  2019
EU: ECB – Interest Rate Decision
1. SFC
+13.51%
24 OCT 2019
MT: PG plc – Annual General Meeting
2. MDI
+3.76%
30 OCT 2019
US: FED – Interest Rate Decision
3. MIA
+2.00%
07 NOV 2019
UK: BoE – Interest Rate Decision
11 DEC 2019
US: FED – Interest Rate Decision
Worst Performers:
12 DEC 2019
EU: ECB – Interest Rate Decision
1. GCL
-17.78%
19 DEC 2019
UK: BoE – Interest Rate Decision
2. GHM
-10.61%
3. GO
-4.55%
| | | | | |
| --- | --- | --- | --- | --- |
|   | Price (€): 11.10.2019 | Price (€): 04.10.2019 | Weekly Change (%) | Year-to-date Change (%) |
| MSE Equity Total Return Index | 9,906.713 | 9,915.850 | -0.092 | 10.086 |
| BMIT Technologies plc | 0.530 | 0.530 | 0.00 | 8.163 |
| Bank of Valletta plc | 1.120 | 1.160 | -3.45 | -7.361 |
| FIMBank plc (USD) | 0.630 | 0.620 | 1.61 | -16.00 |
| GlobalCapital plc | 0.222 | 0.270 | -17.78 | -33.13 |
| Grand Harbour Marina plc | 0.590 | 0.660 | -10.61 | -15.71 |
| GO plc | 4.200 | 4.400 | -4.55 | 6.06 |
| HSBC Bank Malta plc | 1.350 | 1.400 | -3.57 | -26.23 |
| International Hotel Investments plc | 0.775 | 0.780 | -0.64 | 25.00 |
| Lombard Bank plc | 2.260 | 2.260 | 0.00 | -7.38 |
| Loqus Holdings plc | 0.085 | 0.085 | 0.00 | 13.33 |
| MIDI plc | 0.690 | 0.665 | 3.76 | 2.99 |
| Medserv plc | 1.260 | 1.260 | 0.00 | 9.57 |
| Malta International Airport plc | 7.650 | 7.500 | 2.00 | 31.90 |
| Malita Investments plc | 0.895 | 0.895 | 0.00 | 1.70 |
| Mapfre Middlesea plc | 2.140 | 2.160 | -0.93 | 7.54 |
| Malta Properties Company plc | 0.660 | 0.685 | -3.65 | 15.79 |
| Main Street Complex plc | 0.600 | 0.600 | 0.00 | -7.69 |
| MaltaPost plc | 1.310 | 1.350 | -2.96 | -17.09 |
| PG plc | 1.870 | 1.870 | 0.00 | 40.60 |
| Plaza Centres plc | 1.020 | 1.020 | 0.00 | 0.00 |
| RS2 Software plc | 1.930 | 1.920 | 0.52 | 37.86 |
| Simonds Farsons Cisk plc | 12.600 | 11.100 | 13.51 | 44.00 |
| Santumas Shareholdings plc | 1.620 | 1.620 | 0.00 | 14.08 |
| Tigné Mall plc | 0.935 | 0.940 | -0.53 | -3.11 |
| Trident Estates plc | 1.920 | 1.920 | 0.00 | 28.00 |
This report which was compiled by Jesmond Mizzi Financial Advisors Limited, does not intend to give investment advice and the contents therein should not be construed as such. The Company is licensed to conduct investment services by the MFSA and is a Member of the Malta Stock Exchange and a member of the Atlas Group. The directors or related parties, including the company, and their clients are likely to have an interest in securities mentioned in this article. For further information contact Jesmond Mizzi Financial Advisors Limited at 67, Level 3, South Street, Valletta, or on Tel: 21224410, or email [email protected]