MSE Trading Report for Week ending 19 November 2021
MSE Equity Total Return Index: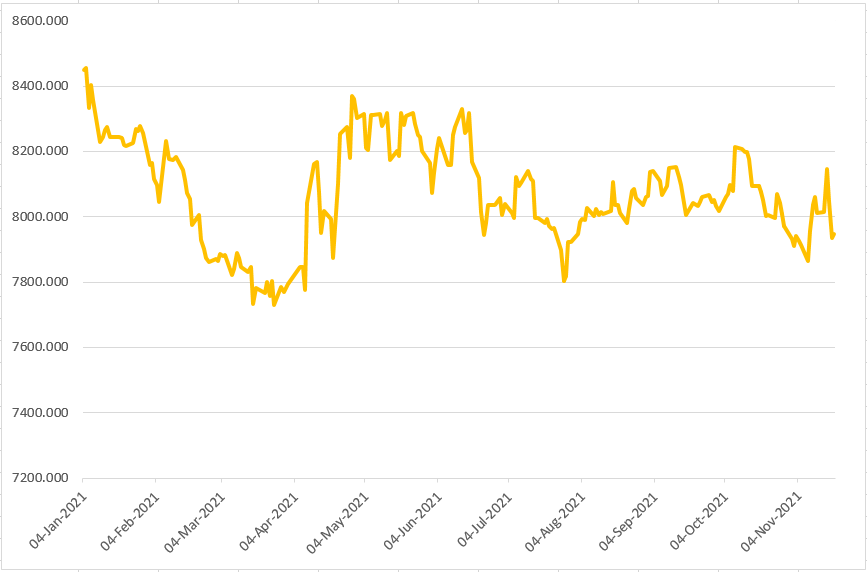 The MSE Equity Total Return Index (MSE) lost 0.8% during this week's trading, as it closed at 7,946.494 points. Trading activity was spread over 16 equities, with three heading north and seven moving in the opposite direction. The large drops suffered by International Hotel Investments plc and Malta Properties Company plc among others, dragged the equity index.
This week's most liquid equity was Malta International Airport plc (MIA), with turnover tallying to €193,274. A total of 32,310 shares exchanged ownership across 16 transactions. MIA managed to hold on to the €5.90 price level and close the week unchanged.
In the banking industry, Bank of Valletta plc (BOV) and Lombard Bank Malta plc were fairly liquid during the week. BOV shares were involved in 16 deals worth €64,820, to close unchanged at €0.87. This equity fluctuated between a weekly low of €0.86 and a weekly high of €0.88. On the other hand, Lombard Bank Malta plc shares were the second most liquid, as eight trades with a total trading value of €132,448, pushed the bank's value up by 5% to the €1.95 level.
Furthermore, HSBC Bank Malta plc gained 2.5%, to close the week at €0.83, over two deals involving 13,227 shares.
BMIT Technologies plc shed 0.4%, as one small trade of 1,950 shares dragged the equity to a weekly low of €0.494, at which it closed.
Following last week's unchanged performance, Harvest Technology plc shares suffered a loss of 2%, to close at the €1.47 price level. Six trades for a total of 11,540 shares were recorded.
The shares of Simonds Farsons Cisk plc experienced higher volatility, as the share price fluctuated between a low of €8.30 and a high of €9.80. This resulted from five trades involving a volume of 1,280 shares. Although the equity experienced high fluctuations, it closed the week unchanged at €8.30.
International Hotel Investments plc was this week's worst performing equity, as two trades on Thursday dragged the price down to €0.57, a week-on-week drop of 9.5%. Total turnover amounted to just €1,682.
The retail conglomerate, PG plc, closed the week unchanged at €2.48 following a sole trade of 4,745 shares. On a year-to-date basis the company's value increased by 24%.
Last Wednesday AX Real Estate Limited, a subsidiary of AX Group p.l.c. announced that it is in the process of being converted into a public limited liability company – AXRE. It intends to submit an application to the Malta Financial Services Authority, for authorisation for admissibility to listing on the Official List of the Malta Stock Exchange.
The shares in AXRE of a nominal value of €0.125 will be offered for sale to the public at an offer price of €0.60 per share. The amount available for ordinary 'A' shares amounts to 33,333,333 subject to an over-allotment option up to 50,000,000 ordinary 'A' shares.
AXRE will also be issuing €40,000,000 in 3.5% unsecured bonds of a nominal value of €100 per bond, redeemable in 2031.
Both offers remain subject to the approval of the Malta Financial Services Authority.
The MSE MGS Total Return Index declined by a further 0.1%, to close at 1,096.604 points. A total of 18 government bonds were active during the week, with the 2.3% MGS 2029 (II) being the most liquid, as two trades worth a total of €346,500 were recorded.
The MSE Corporate Bonds Total Return Index was down by 0.3% over the week, slipping to 1,142.750 points. A total of 45 issues were active, with total turnover reaching almost €1.04m. The 4.25% Best Deal Properties Holding plc Secured € 2024 was the most liquid corporate bond, as four trades worth €109,200 were recorded.
In the Prospects MTF market five issues were active, with total turnover tallying to €78,656, spread over 13 deals. The 5% Busy Bee Finance plc Unsecured € 2029 was the most liquid and generated a total weekly turnover of €42,633, to close at €101.51.
Upcoming Events 
22 November 2021
MT: SD Finance plc – Board Meeting
Best Performers:
26 November 2021
MT: PG plc – Board Meeting
LOM
+5.41%
26 November 2021
MT: Hili Properties plc – Share offer closing date
HSB
+2.47%
26 November 2021
 MT: Harvest Technology plc – Payment of interim dividend
RS2P
+1.80%
30 November 2021
MT: International Hotel Investments plc – Bond offer closing date
14 December 2021
MT: VBL plc – Extraordinary General Meeting

Worst Performers:

20 December 2021
MT: Loqus Holdings plc – Annual General Meeting
IHI
-9.52%
10 January 2022
MT: AX Real Estate p.l.c. – Opening
PZC
-7.69%
MPC
-7.02%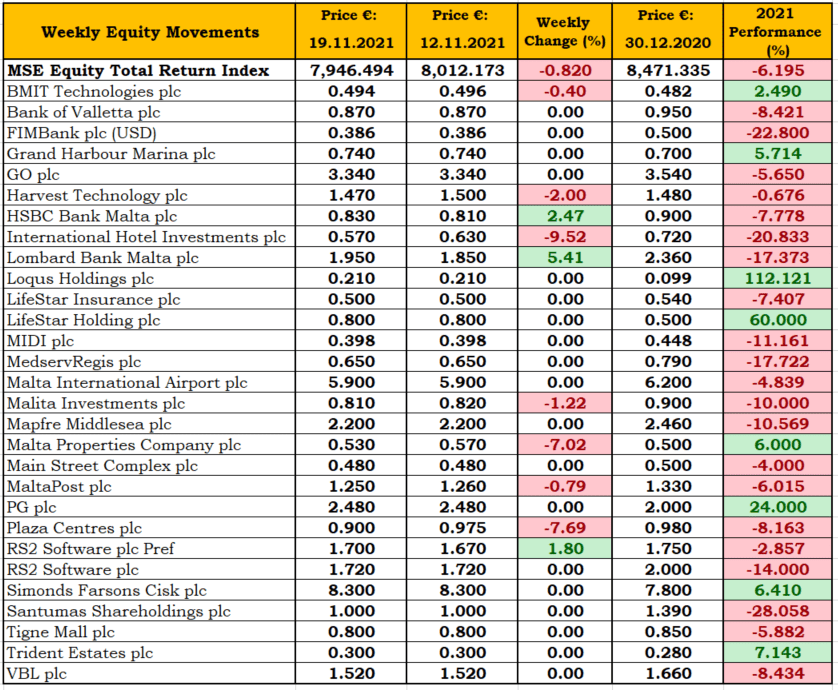 This article, which was compiled by Jesmond Mizzi Financial Advisors Limited, does not intend to give investment advice and the contents therein should not be construed as such. The Company is licensed to conduct investment services by the MFSA and is a Member of the Malta Stock Exchange and a member of the Atlas Group. The directors or related parties, including the company, and their clients are likely to have an interest in securities mentioned in this article. For further information contact Jesmond Mizzi Financial Advisors Limited at 67, Level 3, South Street, Valletta, or on Tel: 21224410, or email [email protected]