MSE Trading Report for Week ending 26 November 2021
MSE Equity Total Return Index: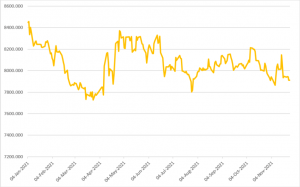 For the second week in a row, the MSE Equity Total Return Index (MSE) experienced a decline of 0.4% to end the week at 7,912.644 points. Trading activity was spread over 17 equities, as five gained and eight declined, with Tigne' Mall plc heading the list of fallers. In terms of activity Bank of Valletta plc (BOV) took the lion's share, as over 70% of this week's turnover took place in the banking equity. Over the week 77 transactions worth €0.6m were executed.
This week BOV shares took centre stage, as over €0.4m were traded across 31 transactions. The banking equity closed the week 2.3% lower to finish at the €0.85 price level, after trading at a weekly high of €0.87.
In the telecommunications industry, GO plc shares gained 1.2% to close at €3.38 – this week's highest trading price and after having touched a weekly low of €3.26. A total of 9,449 shares were spread over seven trades. On a year-to-date basis, the company's equity is down by 4.5%.
Malta International Airport plc ended the week nearly 1% higher at €5.95. A total of 1,672 shares were traded over three trades, generating a turnover of €9,948.
Harvest Technology plc saw its equity's value decline by 0.7% to the €1.46 price level, as one trade of 10,000 shares during Monday's trading session was executed. No further activity was recorded for the rest of the week.
International Hotel Investments plc (IHI) trended 1.8% higher to €0.58, as eight trades of 29,367 shares were recorded. This gain came on the back of last week's 9.5% price decline.
PG plc ended the week at the €2.42 price level, a decline of 2.4% on a sole trade of 6,000 shares.
In the retail shopping complex industry, Plaza Centres plc, Main Street Complex plc and Tigne' Mall plc were all active. Plaza Centres plc closed unchanged at €0.90, as three trades involving the exchange of 22,971 were recorded. Similarly, with the exchange of 10,000 shares spread over two trades, Main Street Complex plc ended the week unchanged at €0.48. On the other hand, Tigne' Mall plc was the worst performing equity, as one small trade of 6,556 shares forced the equity lower by 12.5% to the €0.70 price level.
The share price of RS2 Software plc eased by 1.7% to the €1.69 level over three deals of 4,359 shares. Total trading value tallied to €7,375. Since the beginning of the year, the company's share price is 15.5% lower.
Malita Investments plc saw its shares fluctuate between a weekly high of €0.81 and a low of €0.80 and closing at €0.805 – a week-on-week drop of 0.6%. The equity achieved a total turnover of €5,305 with 6,587 shares changing ownership over four deals.
Property company Malta Properties Company plc closed the week in positive territory at €0.56. The company's shares gained 5.7%, as 6,500 shares exchanged ownership over two deals, resulting in a total trading value of €3,640.
Santumas Shareholdings plc was this week's best performing equity, as the share price jumped by 18% to €1.18. This gain was the result of one trade worth €165.
Trident Estates plc ended the week 5.9% lower at €1.43. Trading activity consisted of two trades of 3,030 shares.
MaltaPost plc shares ended the week 4% in the red, with the share price losing 1.6% during Monday's trading session and a further 2.4% on Wednesday. The equity closed the week at the €1.20 price level, as 25,500 shares changed ownership over three trades.
On Wednesday, BMIT Technologies plc provided a market update with regards to its financial performance during the first nine months of the year. Revenue for the period was just over €19m, up by 6.8% from €17.9m during the same period last year. All revenue streams showed growth with 37% of this growth coming from the sale of cloud services which continued growing substantially by 12% year on year.
Expenses amounted to €10.7m, up from €9.9m last year. The increase in costs is mainly the result of more sales activity, which has driven up the cost of goods sold. The cost of payroll also increased because of the larger staff complement required to support the company's increased operations.
In addition, BMIT announced an improved EBITDA figure of €8.4m, hence up by 5.5%, compared to €8m recorded in the same period last year. The company's EBITDA margins remain attractive at 44%. This improvement in results was also reflected in the profit before tax level, which reached €6.4m up from €6m during the same period last year.
In terms of IPO activity, Hili Properties plc announced that it will extend the issue period of the company's share offer until December 3, 2021.
The MSE MGS Total Return Index declined by a further 0.3%, to close at 1,093.331 points. A total of 18 government bonds were active during the week, with the 2.5% MGS 2036 (I) being the most liquid, as five trades worth a total of €265,729 were recorded.
The MSE Corporate Bonds Total Return Index was down by 0.2% over the week, slipping to 1,139.920 points. A total of 47 issues were active, with total turnover reaching almost €1.9m. The 4.25% Best Deal Properties Holding plc Secured € 2024 was the most liquid corporate bond, as fifteen trades worth €543,088 were recorded.
In the Prospects MTF market two issues were active, with total turnover tallying to €12,705, spread over three deals. The 4.75% KA Finance plc Secured Callable Bonds 2026-2029 was the most liquid and generated a total weekly turnover of €8,684, to close at €96.49.
Upcoming Events 
26 November 2021
MT: PG plc – Board Meeting
Best Performers:
26 November 2021
MT: Hili Properties plc – Share offer closing date
STS
+18.0%
26 November 2021
 MT: Harvest Technology plc – Payment of interim dividend
MPC
+5.66%
30 November 2021
MT: International Hotel Investments plc – Bond offer closing date
IHI
+1.75%
14 December 2021
MT: VBL plc – Extraordinary General Meeting
20 December 2021
MT: Loqus Holdings plc – Annual General Meeting

Worst Performers:

10 January 2022
MT: AX Real Estate p.l.c. – Opening of offer period
TML
-12.5%
TRI
-5.9%
MTP
-4.0%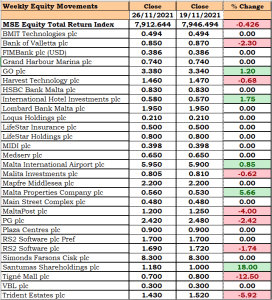 This article, which was compiled by Jesmond Mizzi Financial Advisors Limited, does not intend to give investment advice and the contents therein should not be construed as such. The Company is licensed to conduct investment services by the MFSA and is a Member of the Malta Stock Exchange and a member of the Atlas Group. The directors or related parties, including the company, and their clients are likely to have an interest in securities mentioned in this article. For further information contact Jesmond Mizzi Financial Advisors Limited at 67, Level 3, South Street, Valletta, or on Tel: 21224410, or email [email protected]