MSE Trading Report for Week ending 3 December 2021
MSE Equity Total Return Index: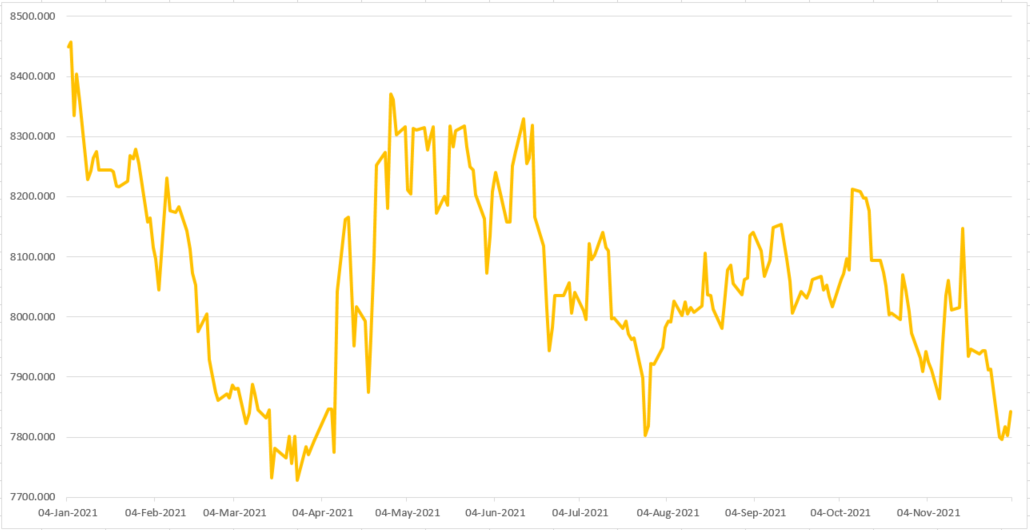 The MSE Equity Total Return Index (MSE) closed the week 1% in the red, to finish at 7,842.173 points. Trading activity was spread over 22 equities, as six headed north, while seven headed in the opposite direction. Overall, 106 trades were executed during the week, with turnover dropping almost by half to €0.3m.
In the banking industry, all four locally listed banks were active. FIMBank plc was this week's worst performing equity, as the bank's shares plummeted by 27.5% to the €0.28 price level. Trading volume tallied to 135,842 shares spread over 13 trades.
Bank of Valletta plc (BOV) shares managed to hold on to €0.85 and closed unchanged, as 10 trades on a volume of 65,087 shares and worth €55,416 were recorded. Trading activity in the bank's equity saw its price fluctuate between a weekly-low of €0.85 and a weekly-high of €0.865. Since the beginning of the year, the value of BOV shares are 10.5% lower.
On Friday after close of trading the bank announced that the board is scheduled to meet on December 9, 2021 to consider, and if thought fit, declare an interim dividend.
On the other hand, HSBC Bank Malta plc (HSBC) shares trended 2.4% higher to also close at the €0.85 level, after trading at a weekly low of €0.81. HSBC's shares changed ownership 16 times, with turnover reaching €47,290. When analysing the year-to-date figures, HSBC shares are currently trading 5.6% lower.
The equity of Lombard Bank Malta plc ended the week 6.2% lower, as its shares were involved in three small transactions across 1,066 shares. The banking equity ended the week at €1.83.
The share price of BMIT Technologies plc advanced by 0.4% to close at €0.496, as four trades across 20,100 shares were recorded.
Simonds Farsons Cisk plc was involved in four deals, as the equity jumped 2.4% to regain the €8.50 price level on a volume of 2,500 shares.
Malta International Airport plcexchanged hands 11 times on 6,597 shares to end the week with a decline of 1.7% at the €5.85 level. Total turnover was of €38,670.
PG plc was one of the most liquid equities during the week, as 21,186 shares traded over 10 deals. The equity declined by 0.8% during yesterday's session to the €2.40 level after trading flat all week. Turnover reached €51,218. Despite this drop, the share price of the retail conglomerate is up by 20% since the beginning of the year.
The board of PG plc resolved to distribute a net interim dividend of €2.25m, equivalent to €0.0208 per ordinary share. This dividend will be paid on December 10, 2021 to the ordinary shareholders who were on the company's register as at close of business on December 2, 2021.
Grand Harbour Marina plc lost 6.8% during Monday's trading session, as the equity ended the week at the €0.69 price level. This drop was caused by two small trades worth a mere €51. The company's equity did not trade for the rest of the week.
Harvest Technology plc shares closed unchanged at €1.46, as four trades worth €5,400 were recorded.
The shares of the hotel operating company International Hotel Investments plc (IHI) held on to the €0.58 level, as trading activity consisted of three small trades worth €1,175.
IHI announced that its €80m bond offer was oversubscribed by the offer date of November 30, 2021. The allocation policy will be announced on December 7, 2021.
IHI added that, as the travel industry worldwide shows signs of recovery, the company witnessed an increase in demand, revenue generation and profitability in the second half of the year, relative to 2021 year-end forecasts published earlier in the year. The company had announced, when publishing its financial analysis report in October 2021, that it was expected to generate a €15m EBITDA for the full year of 2021. With actual results now in hand up to November, the company is forecasting EBITDA for the year to exceed €24m, relative to the €3.8m EBITDA loss for 2020.
The local postal operator, MaltaPost plc, traded 0.8% lower, as one trade across 385 shares caused the price to decline to €1.19.
Insurance company, Mapfre Middlesea plc, declined by 13.2% on Thursday before rebounding 15.2% during yesterday's trading session to close the week unchanged at €2.20. Trading consisted of 2,097 shares spread over three deals.
Although trading on small volumes, MIDI plc shares were very volatile during the week, as their price fluctuated between €0.322 and the €0.398 level. Despite this volatility, the company's equity price closed unchanged at €0.398.
VBL plcalso closed unchanged at €0.30, as 5,000 shares traded over a single trade, tallying to a value of €1,500.
Trident Estates plcadvanced by 7.7% to reach €1.54. A turnover of €507 was generated, as 350 shares exchanged hands over two trades.
Malta Properties Company plcshares lost 1.8% to end the week at €0.55. Trading consisted of just 600 shares worth €327 over three deals.
Similarly, throughout the week Tigne' Mall plcand Santumas Shareholdings plc traded flat, ending the week at €0.70 and €1.18, respectively.
MedservRegis plc gained 3.1% to the €0.67 price level, albeit on low volumes.
Meanwhile, Malita Investments plcclosed flat on a small volume of 1,400 shares, to close at the €0.805 level, as a result of two small trades.
On the fixed income side, the MSE MGS Total Return Index declined by a further 0.4%, to close at 1,097.561 points. A total of 14 government bonds were active during the week, with the 1% MGS 2034 (I) being the most liquid, as two trades worth a total of €183,126 were recorded.
The MSE Corporate Bonds Total Return Indexgained 4% over the week, reaching 1,144.738 points. A total of 45 issues were active, with total turnover reaching almost €1.3m. The 4.5% Endo Finance plc € Unsecured Bonds 2029 was the most liquid corporate bond, as three trades worth €148,500 were recorded.
In the Prospects MTFmarket three issues were active, with total turnover tallying to €49,971, spread over 10 deals. The 5% Busy Bee Finance plc Unsecured € 2029 was the most liquid, and generated a total weekly turnover of €23,071 to close at €100.60.
Upcoming Events 
10 December 2021
MT: PG plc – Interim Dividend Payment
Best Performers:
TRI
+7.69%
14 December 2021
MT: VBL plc – Extraordinary General Meeting
MDS
+3.08%
SFC & HSB
+2.41%
20 December 2021
MT: Loqus Holdings plc – Annual General Meeting

Worst Performers:

10 January 2022
MT: AX Real Estate plc – Opening of offer period
FIM
-27.46%
GHM
-6.76%
LOM
-6.15%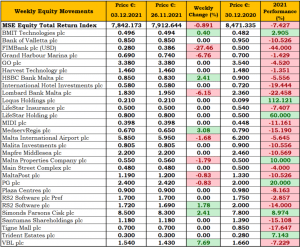 This article, which was compiled by Jesmond Mizzi Financial Advisors Limited, does not intend to give investment advice and the contents therein should not be construed as such. The Company is licensed to conduct investment services by the MFSA and is a Member of the Malta Stock Exchange and a member of the Atlas Group. The directors or related parties, including the company, and their clients are likely to have an interest in securities mentioned in this article. For further information contact Jesmond Mizzi Financial Advisors Limited at 67, Level 3, South Street, Valletta, or on Tel: 21224410, or email [email protected]