MSE Trading Report for Week ending 10 December 2021
MSE Equity Total Return Index: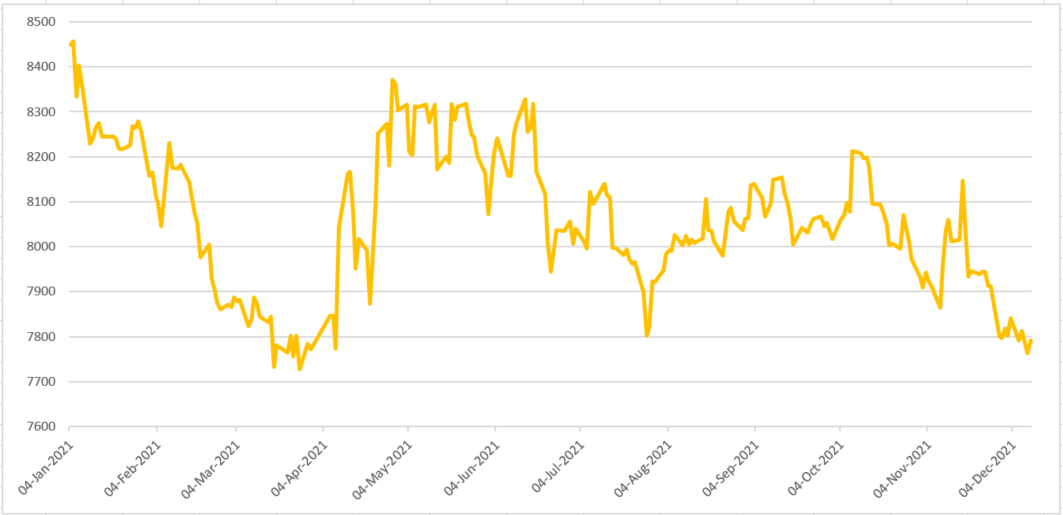 Upcoming Events 
10 December 2021
MT: PG plc – Interim Dividend Payment
Best Performers:
14 December 2021
MT: VBL plc – Extraordinary General Meeting
HSB
+4.12%
16 December 2021
MT: PG plc – Interim Results
BOV
+2.35%
20 December 2021
MT: Loqus Holdings plc – Annual General Meeting
MTP
+0.84%
21 December 2021
MT: MaltaPost  Full Year Results
10 January 2022
MT: AX Real Estate plc – Opening of offer period

Worst Performers:

MPC
-4.60%
RS2
-4.07%
GO
-3.55%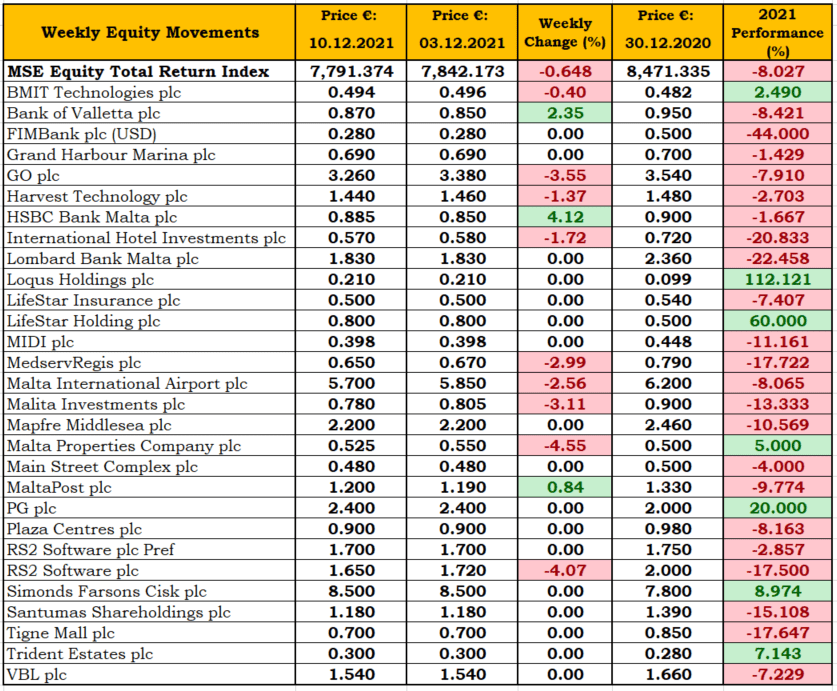 The MSE Equity Total Return Index (MSE) ended the week 0.7% lower, as the equity index slid to 7,791.374 points. Trading activity was spread over 15 equities, as three increased while nine headed in the opposite direction. Overall, 101 trades were executed during the week, with turnover increasing slightly to nearly €0.4m.
In the banking sector, Bank of Valletta plc (BOV) was the most liquid equity, as trading activity was spread across 123,596 shares worth €106,047. A total of 27 deals were executed. BOV shares closed 2.4% higher at €0.87.
Yesterday the board of BOV declared the payment of an interim dividend of €0.0264 gross per share or €0.01716 net of tax, subject to regulatory approval. The dividend will be paid on January 28, 2022 to those members appearing on the Bank's register of members, as at the close of business on January 13, 2022.
Similarly, the share price of HSBC Bank Malta plc (HSBC) recovered further, as it jumped by 4.1% to the €0.885 price level. The bank's shares traded 10 times, with the equity's price fluctuating between a weekly low of €0.82 and a weekly high of €0.90. This week's gain means that on a year-to-date basis HSBC shares are 1.7% down.
FIMBank plc shares traded at an intra-week low of $0.256 until recovering to the $0.28 price level to end the week unchanged. Four trades with a total turnover of $23,194 were recorded.
The local telecommunications company GO plc shed 3.6% to close the week at €3.26 after trading at a weekly high of €3.34. A total of 7,552 shares changed hands over six transactions. It's subsidiary BMIT Technologies plc lost 0.4%, as eight trades worth €36,030 sent the equity down to the €0.494 level.
The ordinary shares of RS2 Software plc performed negatively, as the company's equity plummeted by 4.1% to the €1.65 level across 7,137 shares. On the other hand, the company's preference shares were not active.
Harvest Technology plc saw its shares trend 1.4% lower to €1.44. Total trading value tallied to €2,880 on one small trade. Since the beginning of the year, the company's equity has declined by 2.7%.
The share price of International Hotel Investments plc eased by 1.7%, as five trades on a volume of 13,258 shares were recorded. The share price of the hotels operating company closed at €0.57.
On Tuesday, the company announced that the recently issued 3.65% Unsecured Bonds 2031 was marginally over-subscribed. The Company received applications for an aggregate amount of €81.2m.
The equity of Malta International Airport plc (MIA) also finished lower, as it slipped by 2.6% to the €5.70 price level. Turnover reached €50,011 spread over 12 trades, as the equity's price fluctuated between an intra-week low of €5.65 and a high of €5.85.
Last Thursday, MIA published the airport's traffic report for November, which indicated that 315,964 passengers travelled through the airport. This total translates into a decrease of 35.9% compared to 2019 figures, which is the lowest percentage drop to be registered by MIA since the start of the pandemic. Out of a total of 455,802 seats available on flights operated to and from MIA, almost 70% were occupied during the month of November.
PG plc held on to the €2.40 level, as the shares of the retail conglomerate traded flat during the week. Two small trades on Tuesday and yesterday were recorded, with turnover tallying to €4,118.
Simonds Farsons Cisk plc (SFC) also closed unchanged at €8.50, as three trades across a small volume of 722 shares were recorded. Year-to-date the company's share price is up 9%.
On Thursday SFC announced that it has resolved to distribute a second interim dividend of €1.5m or €0.05 per ordinary share, from tax-exempt income. This dividend will be paid on December 21, 2021 to the ordinary shareholders who will be on the shareholders' register as at close of business on December 15, 2021.
On Monday AX Real Estate plc (AXRE) announced that it has been granted approval by the MFSA for the admissibility to listing on the official list of the MSE of a class of shares and bonds in AXRE. The shares in AXRE of a nominal value of €0.125 will be offered for sale to the public at an offer price of €0.60 per share. The amount available for ordinary 'A' shares amounts to 33.3m subject to an over-allotment option up to 50m ordinary 'A' shares. AXRE will also be issuing €40m in 3.5% unsecured bonds of a nominal value of €100 per bond, redeemable in 2032.
Last Monday GAP plc announced that the Company has received regulatory approval for the issue of up to €21m Gap Group plc 3.9% Secured Bonds 2024 – 2026, having a nominal value of €100 per Bond and issued at par.
In the secondary market, the MSE Corporate Bonds Total Return Index lost 0.2% over the week, reaching 1,142.672 points. A total of 42 issues were active, with total turnover reaching €1.2m. The 3.25% APS Bank plc Unsecured Subordinated € 2025-2030 was the most liquid corporate bond, as one trade worth €102,500 was recorded.
The MSE MGS Total Return Index regained some of last week's decline, as it increased by 0.3% to close at 1,100.635 points. A total of 16 government bonds were active, with the 5.25% MGS 2030 (I) being the most liquid, as three trades worth a total of €261,193 were recorded.
In the Prospects MTF market four issues were active, with total turnover tallying to €38,329 spread over 11 deals. The 5% Busy Bee Finance plc Unsecured € 2029 was the most liquid, and generated a total weekly turnover of €25,226 to close at €100.50.
This article, which was compiled by Jesmond Mizzi Financial Advisors Limited, does not intend to give investment advice and the contents therein should not be construed as such. The Company is licensed to conduct investment services by the MFSA and is a Member of the Malta Stock Exchange and a member of the Atlas Group. The directors or related parties, including the company, and their clients are likely to have an interest in securities mentioned in this article. For further information contact Jesmond Mizzi Financial Advisors Limited at 67, Level 3, South Street, Valletta, or on Tel: 21224410, or email [email protected]