MSE Trading Report for Week ending 12 August 2022
MSE Equity Total Return Index: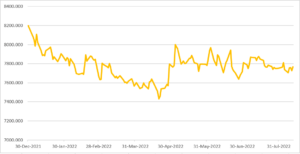 The MSE Equity Total Return Index managed to recover some lost ground, as it closed 0.3% higher at 7,765.937 points. A total of 25 equities were active, 11 of which registered gains while another seven closed in the red. On the week total weekly turnover almost tripled, as €0.8m was traded across 121 transactions.
During the week, all banking equities were active and ended the week in the green. Bank of Valletta plc shares advanced by 1.7%, as 22 trades worth €72,245 were recorded. The bank's equity traded between a weekly-low of €0.860 and a high of €0.90, but closed at €0.885.
The share price of APS Bank plc gained 0.8%, to close at €0.655. Trading activity saw the exchange of 23,026 shares, spread over six trades.
Similarly, HSBC Bank Malta plc (HSBC) closed 0.7% higher, at €0.765. The bank's shares were involved in eight trades across 22,548 shares. Since the beginning of the year, HSBC shares have suffered a drop of 16.9% in value.
FIMBank plc and Lombard Bank Malta plc (LOM) rose 5.3% and 1.1% higher respectively. FIMBank plc shares traded once during yesterday's trading session, to close the week at $0.20. Total trading turnover was a mere $200. Furthermore, €3,840 worth of LOM shares were traded, as the bank's equity closed at €1.92.
Yesterday, LOM announced the half-yearly results for the period ending June 30, 2022 during which the group registered a profit after tax of €11m, up from €3.5m in the same period last year, while the bank's profit after tax was €11.8m, up from €2.6m in 2021. Loans and advances to customers rose to €704.8m leading to an increase in interest receivable of 3%, while deposits also rose by 3%. This resulted in an improved net interest income of €10.1m. Fee and commission income followed the trend rising by 19% because of higher activity in most of the business lines.
The increase in market interest rates during Q2 impacted the bank's investment holdings, with a decline in book value of €16.1m. The related decline is unrealised, as the investments are intended to be held to maturity. The bank's advances to deposits ratio stood at 69.7%.
Malta International Airport plc (MIA) ended the week flat at €5.95, as nine transactions worth a total of €55,287 were executed. The equity declined by 0.8% since January.
During the week, MIA published its July traffic results. The start of the peak summer season saw MIA register its strongest recovery to date. A total 689,145 passengers travelled through MIA in July, marking a recovery of 86.3% of pre-pandemic traffic.
Seat capacity for the month of July was at 85% of 2019 levels, while the seat load factor (SLF) increased by 1.2% compared to the same year. At 88.3%, last month's SLF, which measures the seat occupancy on flights to and from Malta, was the highest MIA has registered in July since 2016.
Having exceeded 2019 passenger numbers in both June and July, Italy continued to top MIA's market leader board, followed by the United Kingdom, France, Germany, and Spain. While the Italian market grew by 3% over July 2019, the French market registered more noteworthy increase of 41% compared to the same month in 2019. This growth was largely driven by the introduction of flights to Paris Charles de Gaulle and Paris Orly by Air France and Vueling, respectively.
July's results brought year-to-date traffic through MIA up to more than three million passenger movements, with this figure translating to a recovery of 75% of pre-pandemic levels.
GO plc ended the week unchanged at €3.04, despite trading at a weekly low of €2.98. A total of 123,400 shares exchanged hands across 13 transactions.
During the six-month period ending June 30, 2022, GO plc generated revenue amounting to €106m, an increase of €12.1m or 12.9% compared to the first half of 2021. During the period under review, local telecom services increased by €7.3m closing at €63.7m. The company announced growth in broadband and mobile customer base subscribers, a partial recovery of roaming revenue and other international wholesale business, and comparatively higher levels of supply and maintenance of hardware and telecoms equipment.
Group cost of sales amounted to €66.3m. The increase of €7.1m or 11.9% over 2021 is largely attributable to higher cost of goods sold as a result of the significantly higher sales of hardware and other telecoms equipment, new network support agreements following the launch of the 5G mobile network and the new operational costs of the submarine cable.
Despite higher cost of sales, the group registered a 14% increase in gross profit, which stood at €39.7m, while operating profit improved to €15m. Profit after tax jumped to €6m, from €3.9m during the same period in 2021. The Board resolved to distribute an interim net dividend of €0.06 per share which will be paid to shareholders on September 9, 2022.
International Hotel Investments plc (IHI) lost a further 3.4%, as seven transactions of 58,434 shares were executed, finishing the week at €0.72. IHI announced that the board will review the half-yearly financial report for the period ended June 30, 2022 by August 29, 2022.
AX Real Estate plc was up by 1.9%, as it closed at €0.55. A total of six deals involving 22,600 shares were executed, generating a total weekly turnover of €12,270. On a year-to-date basis, the equity is down by 8.3%.
Santumas Shareholdings plc slipped by 1.4% to €1.45 on a sole deal of slim volume.
Malta Property Company plc (MPC) closed unchanged at €0.52 despite reaching an intra-week-low of €0.505. Seven deals involving 19,720 shares were executed. On Wednesday, the board of MPC announced that it approved the group's interim unaudited financial statements for the six month period ended June 30, 2022.
The group's operating profit totalled €1.4m, higher by €0.1m when compared to 2021. Despite higher operating profits, the company registered a profit after tax of €0.9m, lower by €1.4m, reflecting an increase in deferred tax mainly on the MIB acquisition. The group's income increased by 5.7% during the six-month period. The increase was partially offset by decreases in rents for Marsa Spencer Hill Old Exchange and B'Kara Old Exchange which were vacated by GO during the first six months of the year. The value of the group's property portfolio increased by €11.3m to €90.5m.
Similarly, Malita Investment plc (MLT) kept the previous week's share price of €0.775. This was the outcome of two deals of 6,500 shares.
The board of MLT announced that it is due to meet on August 23, 2022 to consider, and if deemed appropriate, approve the company's unaudited interim financial statements for the six-month period ended June 30, 2022 and consider the payment of an interim dividend.
Hili Properties plc was active twice over 4,150 shares on Tuesday, adding 4.4% to its share price. The property equity ended the week at €0.24.
Meanwhile, VBL plc advanced by 0.8% to recapture the €0.252 level on a total of 29,372 shares.
On the other hand, Plaza Centres plc closed 2.4% lower, as a single deal involving just 400 shares was executed. The equity ended the week at €0.80.
Tigne' Mall plc was the best performing equity, closing 7.1% higher at €0.75. Two transactions involving 69,966 shares were executed.
Meanwhile, Main Street Complex plc was active but closed unchanged at €0.40. A total of 3,000 shares were spread over two deals.
Elsewhere, MIDI plc announced that the board is scheduled to meet on August 29, 2022 to consider and approve the interim financial statements of the company for the six‐month period ended June 30, 2022.
In the IT sector, BMIT Technologies plc (BMIT) and Loqus Holdings plc (LQS) lost ground. The share price of BMIT eased by 2.1% to €0.47, as seven deals of 86,000 shares were executed. Similarly, a sole deal of slim volume, dragged the share price of LQS 6.7% lower to €0.42.
RS2 Software plc Ordinary shares remained at the €1.50 price level, as four deals worth €5,901 were executed on Thursday.
Similarly, PG plc advanced by 0.9%, ending the week at €2.14. This was the outcome of 36,000 shares spread over seven deals.
A sole deal involving a mere 11 Simonds Farsons Cisk plc shares did not impact the previous week's closing price of €7.70.
MaltaPost plc was active on a sole transaction of 100 shares. The equity finished the week at €1.05 – 0.9% lower.
M&Z plc eased by 0.7%, as two transactions worth €6,719 were executed. The equity ended the week at €0.75.
MedservRegis plc announced that the company's board shall be meeting on August 26, to consider, and approve the unaudited half-yearly report for the six months ended June 30, 2022.
In the fixed income market, the MSE MGS Total Return Index lost ground, as it closed 0.5% lower at 953.587 points. A total of 11 issues were active, eight of which headed north while another three closed in the opposite direction. The 2.9% MGS 2032 (VI) R headed the list of gainers, as it closed 2.4% higher at €104.20. On the other hand, the 1.8% MGS 2051 (I) lost 5.6%, ending the week at €77.78.
The MSE Corporate Bonds Total Return Index registered a 0.4% decline, closing at 1,154.130 points. Out of 62 active issues, 25 advanced while another 22 lost ground. The best performance, with a 3% gain, was recorded by the 4.4% Central Business Centres plc Unsecured € 2027 S1/17 T1, as it closed at €101. Conversely, the 3.5% Bank of Valletta plc € Notes 2030 S1 T1 closed 3% lower at €96.
In the Prospects MTF market, eight issues were active. The 4.75% KA Finance plc Secured Callable Bonds 2026-2029 was the most liquid, as it generated a total weekly turnover of €14,508.
Upcoming Events 
18 Aug 2022
MT: FIMBank plc – Interim Results
Best Performers:
19 Aug 2022
MT: Plaza Centres plc – Dividend Payment Date
TML
+7.14%
25 Aug 2022
MT: AX Real Estate plc – AGM
FIM
+5.26%
25 Aug 2022
MT: PG plc – Full-Year Results
HLI
+4.35%
26 Aug 2022
MT: MedservRegis plc – Interim Results
29 Aug 2022
MT: International Hotel Investments plc
Worst Performers:
29 Aug 2022
MT: Grand Harbour Marna plc – Interim Results
LQS
-6.67%
30 Aug 2022
MT: M&Z plc – Interim Results
IHI
-3.36%
31 Aug 2022
MT: Harvest Technology plc – Dividend Payment Date
PZC
-2.44%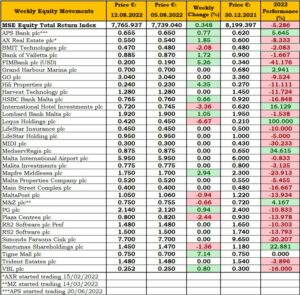 This article, which was compiled by Jesmond Mizzi Financial Advisors Limited, does not intend to give investment advice and the contents therein should not be construed as such. The Company is licensed to conduct investment services by the MFSA and is a Member of the Malta Stock Exchange and a member of the Atlas Group. The directors or related parties, including the company, and their clients are likely to have an interest in securities mentioned in this article. Jesmond Mizzi Financial Advisors Limited is acting as sponsoring brokers for the upcoming BNF Bank plc bond issue. For further information contact Jesmond Mizzi Financial Advisors Limited at 67, Level 3, South Street, Valletta, or on Tel: 21224410, or email [email protected]