MSE Trading Report for Week ending 12 May 2023
Movement in Equity and Bond Indices:
The MSE Equity Total Return Index ended five consecutive weeks of gains, as it closed 0.6% lower at 7,762.043 points. Out of 20 equities, five headed north while another seven closed in the opposite direction. Total weekly turnover jumped to €1.5m and was generated across 214 transactions.
The MSE MGS Total Return Index merely changed, as it closed at 879.176 points, equivalent to a 0.02% increase. A total of nine issues were active, two of which registered gains, while another four closed in the red. The 2.3% MGS 2029 (II) was the best performer, with a 0.5% change in price, closing at €93.96. On the other hand, the 3.5% MGS 2028 (VI) R lost 1.7%, ending the week at €101.02.
The MSE Corporate Bonds Total Return Index declined by 0.9%, as it closed the week at 1,145.878 points. Out of 73 active issues, 27 advanced, while another 29 traded lower. The best performance was recorded by the 3.75% Mercury Projects Finance plc Secured € 2027, which closed 2% higher at €100. Conversely, the 3.65% IHI plc Unsecured € 2031 declined by 4.6% to €93.
Bank of Valletta plc (BOV) shares experienced a decline of 5.2% in value, as 48 trades worth €335,587 were executed. The bank's shares suffered a decline of 7.8% during Monday's trading session but managed to regain some of this drop to eventually close at €1.10. BOV shares fluctuated between an intra-week high of €1.15 and a low of €1.04.
The share value of HSBC Bank Malta plc jumped 5.8% to close at the €1.10 price level. This increase was the result of 15 deals on a volume of 123,472 shares.
APS Bank plc shares shed 0.8%, as it closed at €0.60. Trading activity was spread among 12 transactions worth a total of €32,085.
Mapfre Middlesea plc trended 0.6% higher, as six trades on a volume of 91,287 shares in the first part of the week pushed the price per share to €1.66. The equity did not trade for the rest of the week.
The shares of International Hotel Investments plc lost 1.7%, to close at €0.575. Five trades involving 41,200 shares were executed. Since January, the Company's share price has dropped by 14.8%.
PG plc shares slipped 2% or €0.04 to close at €1.94, as 15 trades on a volume of 102,886 shares were recorded.
The equity of Simonds Farsons Cisk plc increased by 0.7%, to close at €7. This increase was the result of 10 deals with trading turnover reaching €15,923.
RS2 Software plc preference shares (RS2P) rose by 7.1%, to end the week at €1.50.  RS2P shares exchanged hands six times, as 27,364 shares worth €38,617 were traded.
The price per share of VBL plc declined by 4.6% to €0.21, as a total of six deals involving the exchange of 32,900 shares were recorded.
Malta Properties Company plc shares were also active during the week, as nine trades worth €28,891 were recorded. The Company's equity price dropped by 5.2%, to close at €0.404.
Malta International Airport plc (MIA) published the April traffic results. The Company announced that it reached the 700,000 passenger mark early, with the traffic for April amounting to 708,388 movements. This represents an increase of 8.4% over 2019 levels. This total was boosted by the launch of the airport's new summer schedule and the Easter holidays.
Furthermore, on Wednesday MIA held its 31st annual general meeting (AGM). A number of resolutions were considered and approved, including; the approval of the financial statements, the final net dividend of €0.12, the re-appointment of PricewaterhouseCoopers as the auditors of the company and the remuneration report.
LifeStar Holding plc announced that it plans to hold its AGM on June 19, 2023. Similarly, LifeStar Insurance plc will hold its AGM on the same day.
BMIT Technologies plc held its AGM on May 10, 2023, where all the resolutions on the agenda were approved.
GO plc announced that it held its AGM on May 11, 2023 and all the resolutions on the agenda were approved.
M&Z plc announced that the Board of Directors recommend a final net dividend of €873,840 equivalent to €0.01986 net per share, to be approved during the AGM. The final dividend for the year ended December 31, 2022 will be paid on or about June 23, 2023 to all shareholders who are on the shareholders' register as of May 16.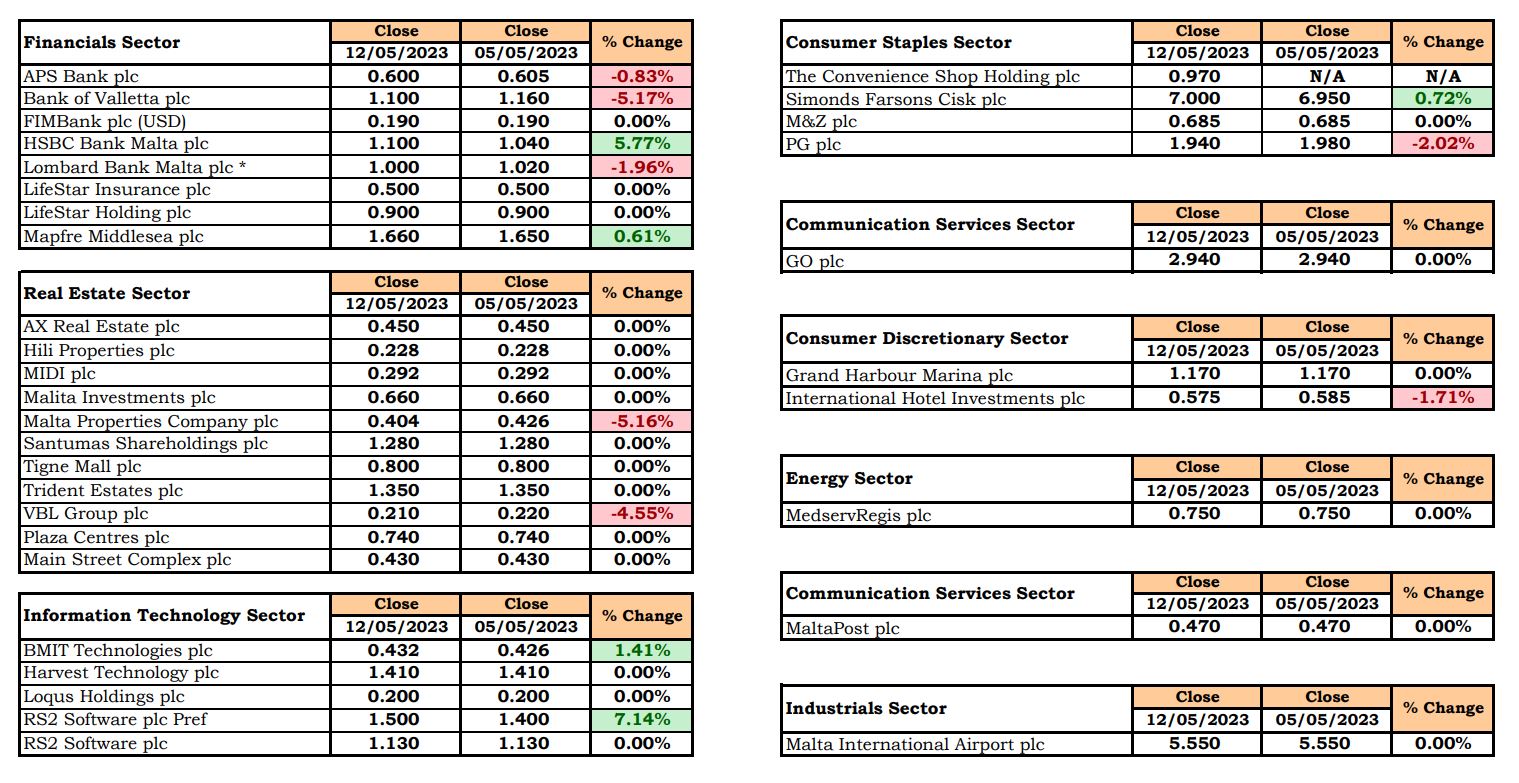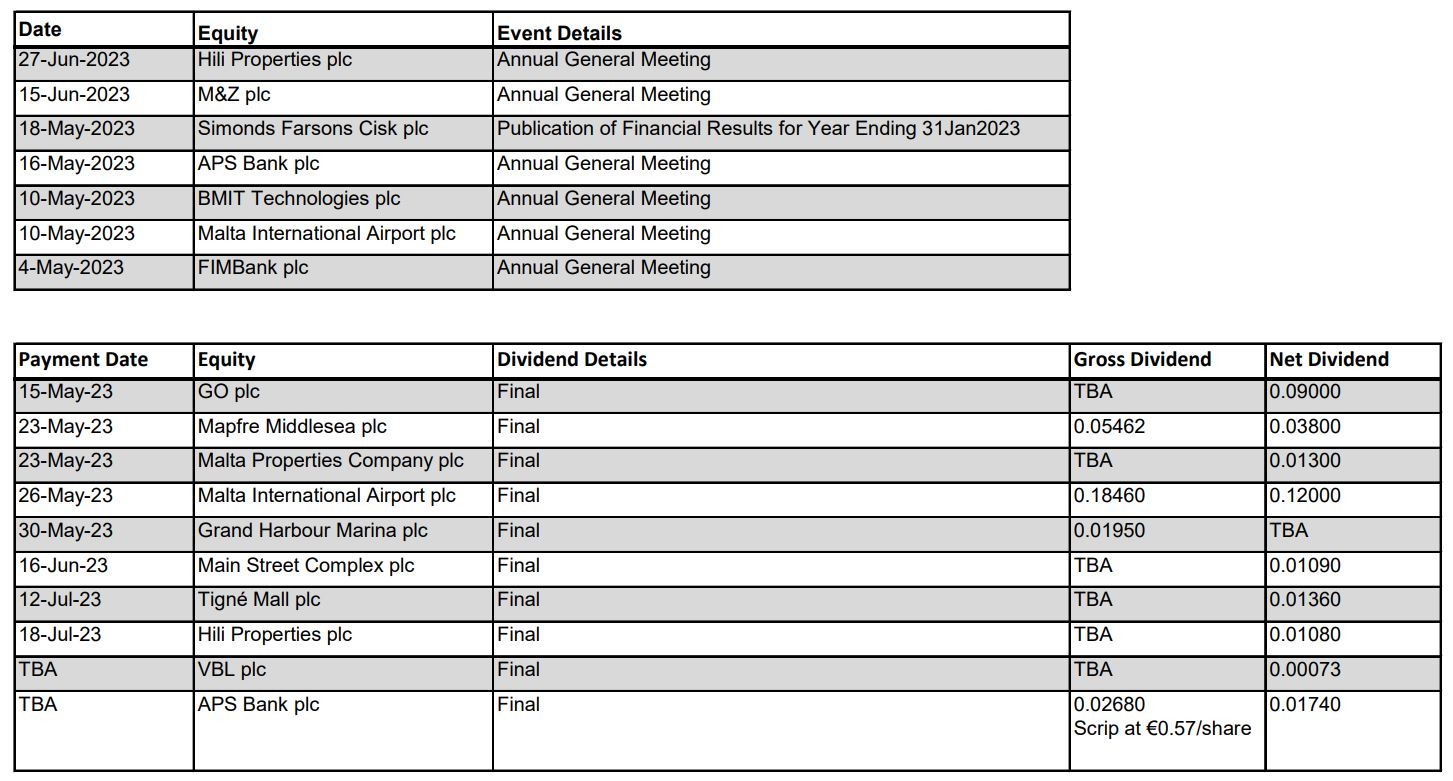 This article, which was compiled by Jesmond Mizzi Financial Advisors Limited, does not intend to give investment advice and the contents therein should not be construed as such. The Company is licensed to conduct investment services by the MFSA and is a Member of the Malta Stock Exchange and a member of the Atlas Group. The directors or related parties, including the company, and their clients are likely to have an interest in securities mentioned in this article. Jesmond Mizzi Financial Advisors Limited is acting as sponsoring brokers for the upcoming BNF Bank plc bond issue. For further information contact Jesmond Mizzi Financial Advisors Limited at 67, Level 3, South Street, Valletta, or on Tel: 21224410, or email [email protected]