MSE Trading Report for Week ending 09 June 2023
Movement in Equity and Bond Indices:
The MSE Equity Total Return Index shed 0.8%, closing at 7,877.691 points. Out of 21 active equities, eight headed north, while nine equities closed in negative territory. Total turnover reached €0.5m, down by €0.8m from last week, as 116 deals were executed.
The MSE MGS Total Return Index decreased by 0.4%, as it closed at 875.174 points. A total of 13 issues were active, of which four headed north while another seven closed in the opposite direction. The 3% MGS 2040 (I) registered the best performance as it closed 2.5% higher at €90.50. Conversely, the 2.5% MGS 2036 (I) lost 3.7%, to close at €86.68.
The MSE Corporate Bonds Total Return Index closed 0.8% in the red, as it ended the week at 1,146.692 points. Out of 55 active issues, 15 traded higher while another 28 closed in the red. The 3.8% Hili Finance Company plc Unsecured € 2029 headed the list of gainers with a 3.7% rise, to close at €95. Meanwhile, the 3.65% Mizzi Organisation Finance plc Unsecured € 2028 – 2031 closed 4.5% lower at €90.
Loqus Holdings plc emerged as this week's top-performing equity, as it closed at €1. This price jump was the result of four transactions involving a total of 3,000 shares, leading to a 400% surge in the company's share price.
Bank of Valletta plc continued to gain for the third consecutive week. The equity closed at €1.25, a week-on-week increase of 1.6%. A total of 42 transactions were recorded, with trading turnover reaching €236,204.
In the last hour of trading, HSBC Bank Malta plc shares declined by 4% to close at €1.20. A total of 82,680 shares exchanged hands across 12 transactions.
The share price of APS Bank plc took a downturn, as 17 deals worth €29,808 were recorded. The bank's share value closed at a weekly low of €0.595. This caused a decline of 4% in the share price.
Within the same sector, the share price of Lombard Bank Malta plc rose by 4.2%, closing at €1. This was the result of two transactions of trivial volume.
Malta International Airport plc (MIA) started the week positively, increasing by 0.9%. The equity maintained this increase and ultimately closed at the €5.60 price level. Nine transactions were recorded involving the exchange of 4,913 shares.
On Tuesday, the share price of Simonds Farsons Cisk plc trended 1.4% higher, as a result of three transactions involving a combined total of 345 shares. The company's equity closed at €7.25.
GO plc registered a negative 1.3% movement in share price, to end the week at €2.96. A total of 3,005 shares exchanged hands across four deals.
RS2 Software plc Ordinary shares (RS2) experienced a substantial decrease in their share price due to a single transaction involving 450 shares. As a result, RS2 finished the week at €1.05, a decline of 6.3%.
MIDI plc followed suit, with a single transaction involving 3,571 shares leading to a substantial 7.5% decrease in the share price. MIDI plc shares closed at €0.27.
Lombard Bank Malta plc has instituted legal proceedings before both the Court of Appeal and the First Hall Civil Court with regards to the decision taken and penalties imposed on the bank by the Financial Intelligence and Analysis Unit (FIAU).
The First Hall Civil Court, in its Constitutional Jurisdiction delivered a judgement ruling, inter alia, that the FIAU decision in the bank's regard as well as the relative administrative penalties are null and void as they are considered unconstitutional and in breach of the bank's right to a fair hearing by an independent and impartial court as enshrined in the Constitution of Malta.
The board of Mapfre Middlesea plc is scheduled to meet on July 26, 2023, to consider and approve the interim financial statements for the period ending June 30, 2023.
VBL plc announced the agenda for the company's AGM which will be held on July 6, 2023. The agenda includes the recommendation of a total final net dividend of €180,000, corresponding to 0.0726 Euro Cents per ordinary share, as recommended by the directors, which will be paid on October 31, 2023.
MIA announced May's Traffic results. This was the second consecutive month during which more than 700,000 passengers were welcomed at MIA. Registering an increase of 7.7% over the same month in 2019, May's traffic amounted to 726,299 passenger movements. While seat capacity increased by 4.3% compared to 2019, the average seat load factor gained 2.7% over the reference year to reach 82.9%. Italy retained its popularity in May, topping MIA's market leaderboard with a 24% market share, followed by the United Kingdom, France, Germany and Spain.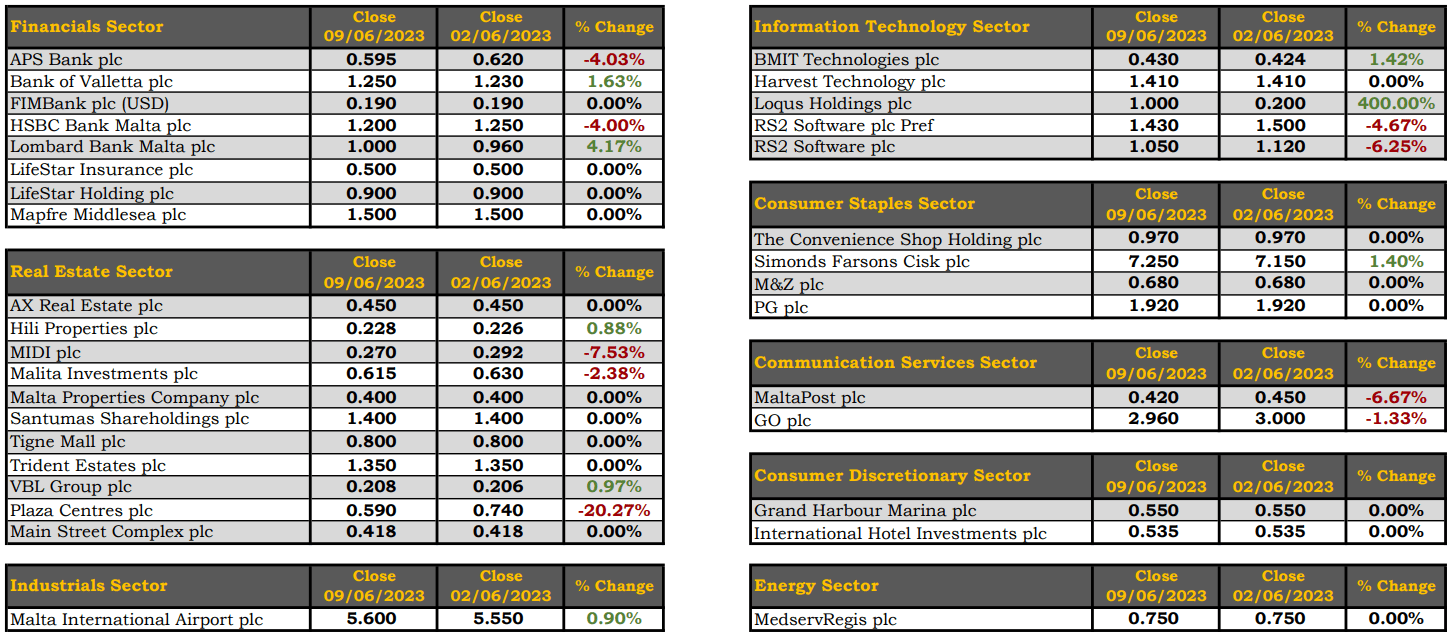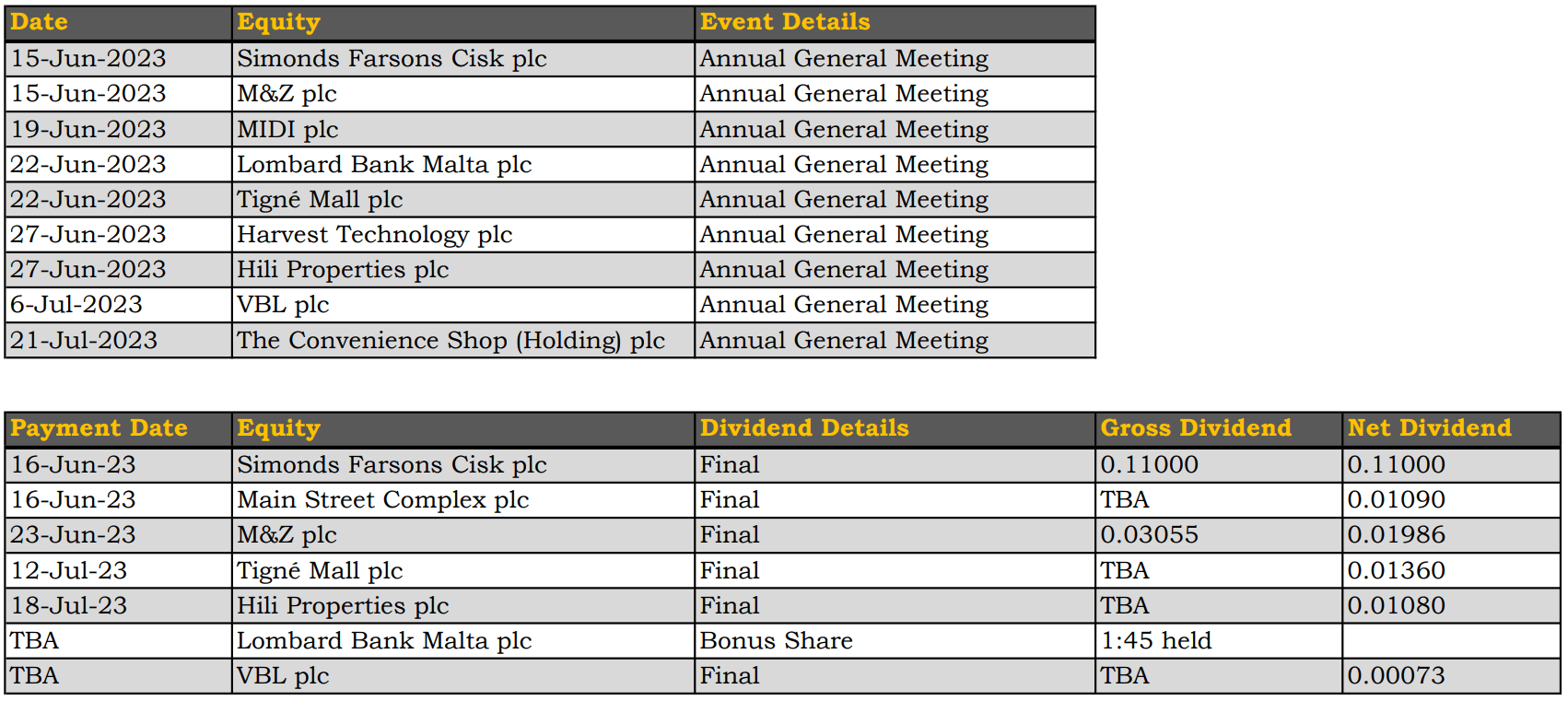 This article, which was compiled by Jesmond Mizzi Financial Advisors Limited, does not intend to give investment advice and the contents therein should not be construed as such. The Company is licensed to conduct investment services by the MFSA and is a Member of the Malta Stock Exchange and a member of the Atlas Group. The directors or related parties, including the company, and their clients are likely to have an interest in securities mentioned in this article. Jesmond Mizzi Financial Advisors Limited is acting as sponsoring brokers for the upcoming BNF Bank plc bond issue. For further information contact Jesmond Mizzi Financial Advisors Limited at 67, Level 3, South Street, Valletta, or on Tel: 21224410, or email [email protected]