MSE Trading Report for Week ending 06 September 2019
MSE Equity Total Return Index: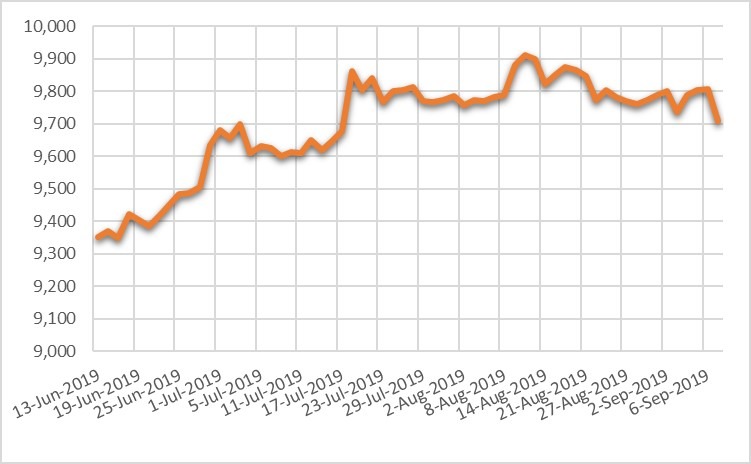 Chart of the Week: International Hotel Investments plc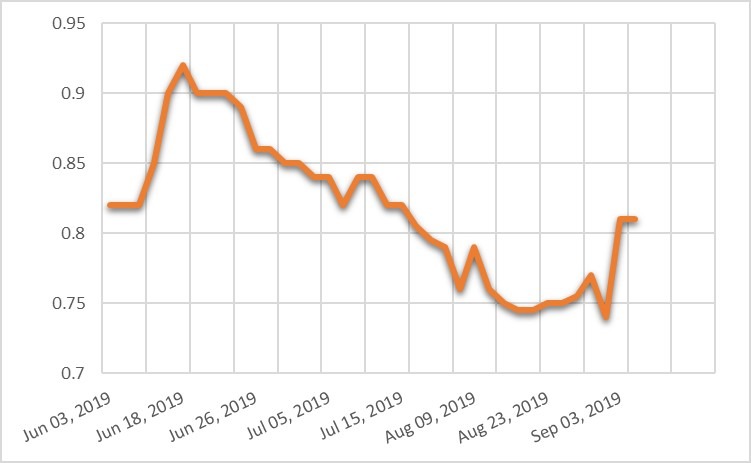 The MSE Equity Total Return Index ended the week on a positive note as it advanced a further 0.624% to 9,830.792 points. Out of 21 active equities, nine registered gains while another eight closed in the red. A total weekly turnover of €2.5 million was generated across 205 deals.
In the banking sector, Bank of Valletta plc enjoyed another positive week as it closed 0.44% higher at €1.13. A total weekly turnover of €93,404 was generated as 28 deals involving 83,203 shares were executed. During the week, it reached a two-month high of €1.14.
Its peer, HSBC Bank Malta plc lost 1.33% to €1.48. A total of 22,560 shares changed hands between six deals, ending the week with a total turnover of €33,540.
The best performance in the equities market was registered by International Hotel Investments plc as it reached a six-week high of €0.81. A total of 70,447 shares were spread across ten deals, generating a total turnover of €54,752. After market close on August 30, the board  approved the half-yearly financial report for the period ended June 30, 2019. During this period, the Group recorded a slight increase in its earnings before interest and tax. It increased by €348,000 when compared to the same period ended June 30, 2018.During the period under review, the Group's profit before tax amounted to €5.2 million versus a loss of €2.3 million.
On Friday August 30, after market close, GlobalCapital plc announced that the half-yearly financial report for the period ended June 30, 2019 has been approved.
Malta International Airport plc declined to €7.40 as it traded 23 times over 23,371 shares. It started off the week at a lower price of €7.00 but managed to recoup part of its loss. Last Friday, the board announced their traffic results for August 2019. An 8.4% growth was registered from the figure of August 2018. Such rise in passenger numbers was partly due to a 5.8% increase in aircraft movements and a 7.6% increase in seat capacity.
On the corporate debt front, 51 issues were active, of which 23 registered gains while another 15 traded lower.
In the sovereign debt market, out of 22 active issues, 21 issues lost ground while the other one closed unchanged. As a result, the MSE MGS Total Return Index closed 0.605% lower, when compared to the previous week's figure.
Upcoming Events: 
12 SEP 2019
EU: ECB – Monetary Policy Meeting
Best Performers:
18 SEP 2019
US: FED – Monetary Policy Meeting
1. IHI
+9.46%
19 SEP 2019
UK: BoE – Monetary Policy Meeting
2. MMS
+3.88%
25 SEP 2019
MT: Simonds Farsons Cisk plc – Interim Results
3. MTP
+3.85%
11 OCT 2019
MT: Santumas Shareholdings plc – AGM
24 OCT 2019
EU: ECB – Monetary Policy Meeting
Worst Performers:
30 OCT 2019
US: FED – Monetary Policy Meeting
1. FIM
-4.41%
07 NOV 2019
UK: BoE – Monetary Policy Meeting
2. LOM
-2.63%
11 DEC 2019
US: FED – Monetary Policy Meeting
3. MSC
-1.64%
| | | | | |
| --- | --- | --- | --- | --- |
|   | Price (€): 06.09.2019 | Price (€): 30.08.2019 | Weekly Change (%) | Year-to-date Change (%) |
| MSE Equity Total Return Index | 9,830.792 | 9,769.838 | 0.624 | 9.243 |
| BMIT Technologies plc | 0.530 | 0.530 | 0.00 | 8.163 |
| Bank of Valletta plc | 1.130 | 1.125 | 0.44 | -6.534 |
| FIMBank plc (USD) | 0.650 | 0.680 | -4.41 | -13.33 |
| GlobalCapital plc | 0.200 | 0.200 | 0.00 | -39.76 |
| Grand Harbour Marina plc | 0.700 | 0.700 | 0.00 | 0.00 |
| GO plc | 4.400 | 4.420 | -0.45 | 11.11 |
| HSBC Bank Malta plc | 1.480 | 1.500 | -1.33 | -19.13 |
| International Hotel Investments plc | 0.810 | 0.740 | 9.46 | 30.65 |
| Lombard Bank plc | 2.220 | 2.280 | -2.63 | -9.02 |
| Loqus Holdings plc | 0.061 | 0.061 | 0.00 | -19.33 |
| MIDI plc | 0.635 | 0.640 | -0.78 | -5.22 |
| Medserv plc | 1.200 | 1.200 | 0.00 | 4.35 |
| Malta International Airport plc | 7.400 | 7.450 | -0.67 | 27.59 |
| Malita Investments plc | 0.865 | 0.845 | 2.37 | -1.70 |
| Mapfre Middlesea plc | 2.140 | 2.060 | 3.88 | 7.54 |
| Malta Properties Company plc | 0.700 | 0.680 | 2.94 | 22.81 |
| Main Street Complex plc | 0.600 | 0.610 | -1.64 | -7.69 |
| MaltaPost plc | 1.350 | 1.300 | 3.85 | -14.56 |
| PG plc | 1.720 | 1.670 | 2.99 | 29.32 |
| Plaza Centres plc | 1.030 | 1.020 | 0.98 | 0.98 |
| RS2 Software plc | 1.880 | 1.910 | -1.57 | 34.29 |
| Simonds Farsons Cisk plc | 10.300 | 10.300 | 0.00 | 17.71 |
| Santumas Shareholdings plc | 1.620 | 1.620 | 0.00 | 14.08 |
| Tigné Mall plc | 0.900 | 0.885 | 1.69 | -6.74 |
| Trident Estates plc | 1.900 | 1.900 | 0.00 | 26.67 |
This report which was compiled by Jesmond Mizzi Financial Advisors Limited, does not intend to give investment advice and the contents therein should not be construed as such. The Company is licensed to conduct investment services by the MFSA and is a Member of the Malta Stock Exchange and a member of the Atlas Group. The directors or related parties, including the company, and their clients are likely to have an interest in securities mentioned in this article. For further information contact Jesmond Mizzi Financial Advisors Limited at 67, Level 3, South Street, Valletta, or on Tel: 21224410, or email [email protected]