MSE Trading Report for Week ending 13 September 2019
MSE Equity Total Return Index: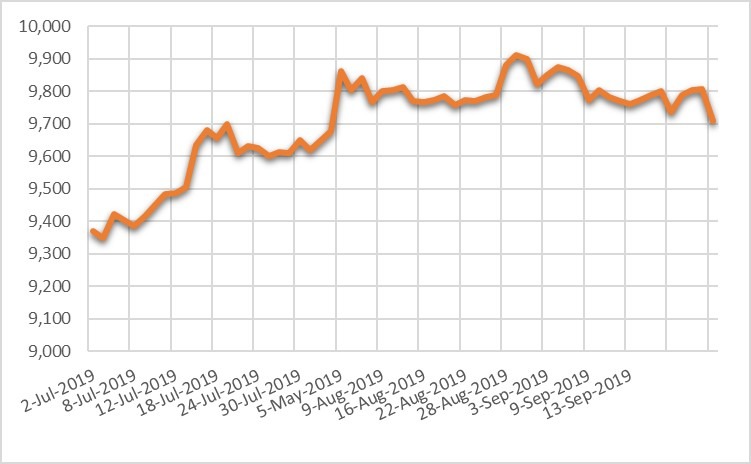 Chart of the Week: Malta International Airport plc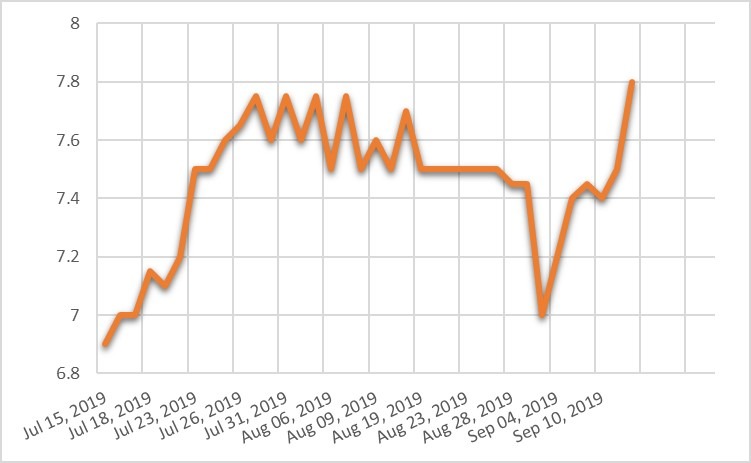 The MSE Equity Total Return Index ended the week with a 0.782% rise to 9,907.622 points. Active equities amounted to 20, of which seven headed north while another 11 closed in the opposite direction. A total weekly turnover of €1.8 million was generated over 219 deals.
In the banking sector, Bank of Valletta plc continued its positive trend as it advanced by 0.88%. It reached a nine-week high of €1.15 during the week but closed at €1.14. A total of 87,573 shares changed ownership across 23 transactions, generating a total turnover of €100,185.
On the other hand, its peer, HSBC Bank Malta plc was active on Friday and declined to €1.47. This translates into a 0.68% fall as a sole deal of 500 shares was executed.
FIMBank plc registered the largest fall in price yet again as it lost a further 4.62% to €0.62. A total of five deals involving 18,479 shares were executed, as total turnover amounted to €11,870.
The best performer was GlobalCapital plc as two trades involving 6,000 shares pushed its price to a 16-week high of €0.25. The price increased by 25%, as total turnover stood at €0.25.
Reaching a three-month high of €7.80, Malta International Airport plc recorded a 5.41% rise in price. A net interim dividend of €0.03 per share was payable as at Friday 13, 2019. A total turnover of €229,291 was generated as 30,145 shares changed hands across 26 deals.
Simonds Farsons Cisk plc closed at an all-time high price of €11, translating into a 6.8% rise. A total of 11 deals involving 12,857 shares generated a total weekly turnover of €139,150.
PG plc also set a new record price of €1.75, translating to a 1.74% price increase. Traded volume amounted to 11,200 shares over eight transactions.
On the corporate debt front, 48 issues were active, of which 17 gained ground while another 12 registered a loss.
In the sovereign debt market, out of 20 active issues, 12 issues traded lower while another six advanced.
Upcoming Events: 
18 SEP 2019
US: FED – Interest Rate Decision
Best Performers:
19 SEP 2019
UK: BoE – Interest Rate Decision
1. GCL
+25.00%
25 SEP 2019
MT: Simonds Farsons Cisk plc – Interim Results
2. SFC
+  6.80%
11 SEP 2019
MT: Santumas Shareholdings plc – AGM
3. MIA
+  5.41%
24 OCT 2019
EU: ECB – Interest Rate Decision
30 OCT 2019
US: FED – Interest Rate Decision
Worst Performers:
07 NOV 2019
UK: BoE – Interest Rate Decision
1. FIM
–  4.62%
11 DEC 2019
US: FED – Interest Rate Decision
2. LOM
–  4.50%
12 DEC 2019
EU: ECB – Interest Rate Decision
3. GHM
–  4.29%
| | | | | |
| --- | --- | --- | --- | --- |
|   | Price (€): 13.09.2019 | Price (€): 06.09.2019 | Weekly Change (%) | Year-to-date Change (%) |
| MSE Equity Total Return Index | 9,907.622 | 9,830.792 | 0.782 | 10.097 |
| BMIT Technologies plc | 0.530 | 0.530 | 0.00 | 8.163 |
| Bank of Valletta plc | 1.140 | 1.130 | 0.88 | -5.707 |
| FIMBank plc (USD) | 0.620 | 0.650 | -4.62 | -17.33 |
| GlobalCapital plc | 0.250 | 0.200 | 25.00 | -24.70 |
| Grand Harbour Marina plc | 0.670 | 0.700 | -4.29 | -4.29 |
| GO plc | 4.360 | 4.400 | -0.91 | 10.10 |
| HSBC Bank Malta plc | 1.470 | 1.480 | -0.68 | -19.67 |
| International Hotel Investments plc | 0.805 | 0.810 | -0.62 | 29.84 |
| Lombard Bank plc | 2.120 | 2.220 | -4.50 | -13.11 |
| Loqus Holdings plc | 0.061 | 0.061 | 0.00 | -19.33 |
| MIDI plc | 0.630 | 0.635 | -0.79 | -5.97 |
| Medserv plc | 1.250 | 1.200 | 4.17 | 8.70 |
| Malta International Airport plc | 7.800 | 7.400 | 5.41 | 34.48 |
| Malita Investments plc | 0.855 | 0.865 | -1.16 | -2.84 |
| Mapfre Middlesea plc | 2.140 | 2.140 | 0.00 | 7.54 |
| Malta Properties Company plc | 0.700 | 0.700 | 0.00 | 22.81 |
| Main Street Complex plc | 0.600 | 0.600 | 0.00 | -7.69 |
| MaltaPost plc | 1.330 | 1.350 | -1.48 | -15.82 |
| PG plc | 1.750 | 1.720 | 1.74 | 31.58 |
| Plaza Centres plc | 1.020 | 1.030 | -0.97 | 0.00 |
| RS2 Software plc | 1.900 | 1.880 | 1.06 | 35.71 |
| Simonds Farsons Cisk plc | 11.000 | 10.300 | 6.80 | 25.71 |
| Santumas Shareholdings plc | 1.620 | 1.620 | 0.00 | 14.08 |
| Tigné Mall plc | 0.900 | 0.900 | 0.00 | -6.74 |
| Trident Estates plc | 1.850 | 1.900 | -2.63 | 23.33 |
This report which was compiled by Jesmond Mizzi Financial Advisors Limited, does not intend to give investment advice and the contents therein should not be construed as such. The Company is licensed to conduct investment services by the MFSA and is a Member of the Malta Stock Exchange and a member of the Atlas Group. The directors or related parties, including the company, and their clients are likely to have an interest in securities mentioned in this article. For further information contact Jesmond Mizzi Financial Advisors Limited at 67, Level 3, South Street, Valletta, or on Tel: 21224410, or email [email protected]