MSE Trading Report for Week ending 30 April 2020
MSE Equity Total Return Index: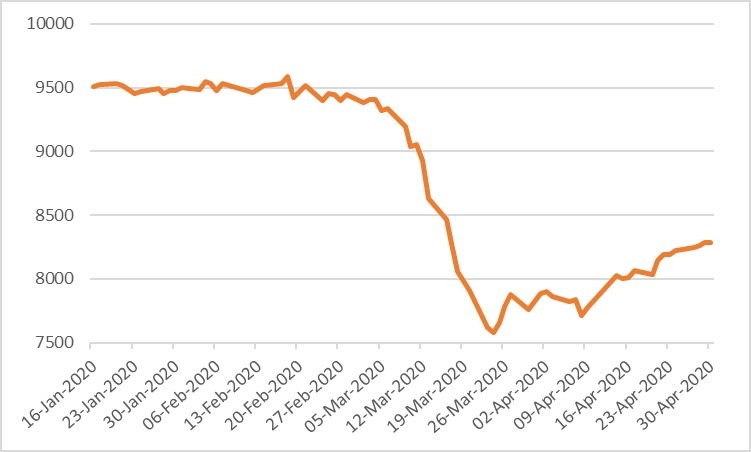 Chart of the Week: Trident Estates plc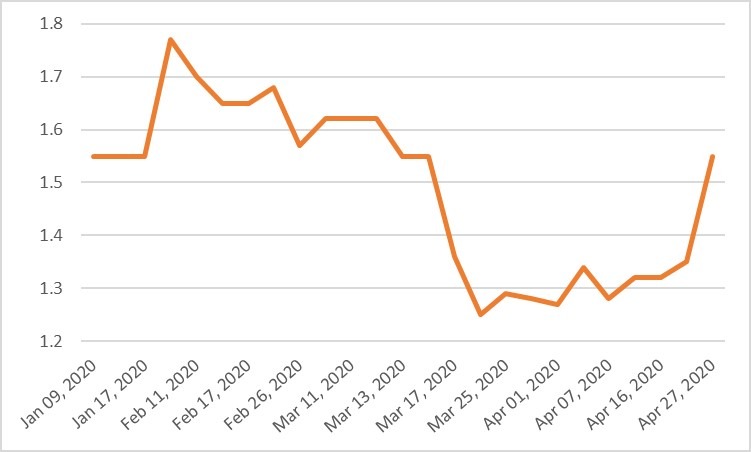 The MSE Equity Total Return Index continued its recent recovery during the four-day trading week, as it reached 8,283.81 points – translating into a 0.72% increase over the week, a 6.73% gain on the month, while a 9.29% rebound since the low reading in March. Out of 16 active equities, eight gained ground while another five headed south. A total weekly turnover of €1.4 million was generated over 214 trades.
Last Tuesday, HSBC Bank Malta plc announced its interim directors' statement and COVID-19 impact update. Due to the current situation, the bank anticipates that Malta's economy will contract sharply this year. The bank started off the year on a strong note, as business volumes exceeded those of the prior year. In addition to this, progress continued on cost reduction, as operating expenses for the first three months were lower when compared to the same period last year, reflecting ongoing delivery of the strategic actions announced last year. Loans and advances to customers increased from December 2019, as a result of strong growth in mortgages and increases in the commercial banking book. Likewise, liquidity continues to be robust, with customer deposits increasing since December 2019. This positive stance has changed in light of the current unprecedented times. So far, the bank has not experienced material increases in specific credit losses from either business or retail customers. This reflects the benefit of support measures introduced by government, policy guidance from regulators and the bank's conservative risk culture.
The board has made judgements to reflect the potential impact of COVID-19 at a portfolio level and booked an expected credit loss provision of €7 million in the first quarter results. Excluding subsidiaries, profitability for quarter one was lower than the previous year's figure, as a result of the increased credit loss provision. The bank's capital position remains exceptionally strong and exceeds the regulatory requirements. Including the subsidiaries, HSBC's results were impacted by extreme market volatility in the investment portfolio of HSBC Life Assurance (Malta) Limited – HSBC Life. HSBC Life holds financial assets for a long-term horizon but is required to value these at current market rates and recognise valuation adjustments for each reporting period. Therefore, given the extreme market conditions, HSBC Life reported a loss in the first quarter of 2020 but remains adequately capitalised. Taking into account these results, the local group made a loss before tax of €7 million during quarter one of 2020.
The bank recorded a 2% increase in price as it reached a six-week high price of €1.02. A total of 22 deals involving 83,655 shares were executed.
Last Thursday, Bank of Valletta plc announced that this year's quarter one financial performance was somewhat below expectations, as some adverse effects began to emerge towards the end of March due to the consequential economic impact. Meanwhile, the bank's asset balances and customer deposits are in line with expectations and no reduction in asset growth or customer balances have been reported to date. The loans to deposit ratio remains solidly at 44.5%.
Potential declines in commission and exchange income are starting to be detected as a result of reduced customer interactions through restricted branch operations, lower economic activity and reduced international trade. Although still early to estimate the full impact of the pandemic on the bank, lower income and potentially increasing credit losses will lead to lower profitability in 2020. As at March 31, 2020, net interest income declined marginally when compared to the previous year's figure. This is driven by volume growth in the loan book and the continuing preference for very low yield deposit products. This remains being offset, however, by lower returns on treasury investments as we continue to move towards lower risk investments. Margins will remain under pressure due to the negative interest environment and continuing high levels of liquidity will be experienced.
Meanwhile, commission and trading income were initially in line with expectations despite showing some decline during March.  The bank's costs are being kept below targets and liquidity is still extremely strong with short-term funds continuing to grow above the €4 billion mark. Likewise, capital ratios continued to strengthen. In line with the ECB's recommendation regulatory requirements, the bank postponed the dividend payment until at least October 2020.
The bank's current difficult trading environment for its clients is likely to necessitate further provision even though the situation on impairment provisions remained favourable to date. BOV is doing its utmost to support customers and welcomes the government and regulatory initiatives to issue supported loan facilities or grants to consumers and businesses. The duration of the current situation will be a key determinant of the extent to which any ultimate credit losses may arise, and therefore any forecasts at this stage would be speculative.
Meanwhile, the bank continues to make solid progress on its de-risking programme while improving in-house capabilities to minimise costs. This year's de-risking costs are expected to be lower than 2019. Moreover, final conclusions with regards to the bank's two key litigation cases may be deferred to next year considering the current situation. The board is confident that the current provision will prove sufficient and do not consider at this stage that any further provision will be necessary.
The bank has continued to implement further enhancements to its risk management and compliance functions. However, the bank's primary focus at the moment is firmly on supporting its loyal customers while maintaining resilience in the face of the serious challenges posed by the current economic crisis.
Earlier in the week the bank also announced the appointment of its new chairman by the Government of Malta, Dr Gordon Cordina. Dr Cordina, a leading economist in the Maltese islands, will be assuming this role at the bank on October 7, 2020, and subject to regulatory approval.
The bank declined by 0.9% as it ended the week at €1.05. A total of 63,890 shares changed hands across 18 transactions.
Last Monday, the board of RS2 Software plc considered and approved the audited consolidated financial statements for the financial year ended December 31, 2019. These shall be submitted for shareholders' approval during the forthcoming Annual General Meeting (AGM), details of which will be announced at a later date.
The group's revenue increased by nearly 14% from the previous year adjusted revenue figure of €19.4 million, as it stood at €22.1 million.  RS2's strategic shift from providing perpetual licences of its platform to managed services, merchant acquiring services and issuing services abroad resulted in international growth and expansion. Processing revenue increased by 129% in 2019, reflecting additional revenue from new and existing clients in the form of implementation and transactions processing fees. A €0.2 million increase in the group's gross profit for the year was recorded, as it amounted to €7 million. Administrative expenses were up by 42%, mainly reflecting the strengthening of the administrative functions at the Head Office, the United States and Germany in support of the planned international growth.  This was reflected in the group's bottom line, registering a net loss for the year of €3.2 million.
Meanwhile, the group's assets increased by 12% to €31.8 million – of which €2.6 million is an effect of the adoption of IFRS 16. Meanwhile, equity saw a 22% decline, as it stood at €14.1 million, mainly brought about by increased short-term investment in the US. No dividends shall be recommended for the year ended December 31, 2019.
The equity advanced by 3% to €2.06, as 39 deals involving 90,986 shares were executed.
On Friday, April 24, after market close, Harvest Technology plc announced that the board approved the audited financial statements for the financial year ended December 31, 2019. The group's profit before tax increased to €3.04 million, while earnings per share also increased from €0.0255 to €0.0917. The group's revenue was also up by 3.09% from the previous year as it stood at €16 million. Furthermore, the board announced that it has resolved to distribute a net dividend of €410,051, equivalent to €0.018 per share, for which the board has elected to proceed with the payment of the said dividend in advance of an eventual Annual General Meeting to all shareholders included in the shareholders' register of the company as at last Thursday on or around May 15, 2020.
The company and its subsidiaries (together, the "Harvest Group") are constantly monitoring developments arising from the COVID-19 pandemic, taking all measures considered necessary to mitigate the challenges, and equally, pursue the potential opportunities arising therefrom. The board also notes with satisfaction that the unaudited consolidated net profit before tax of the Harvest Group in Q1 2020 was €835,000, an improvement of 25% on the budget projection for Q1 (€668,000), which constituted the first quarter of the annual projected consolidated net profit before tax of €3,124,000 for 2020, as detailed in the prospectus published by the company on November 18, 2019. However, whilst the Group continues to seek alignment of its results with previously set budgetary targets for 2020, the board remains conscious that, in the prevailing extraordinary circumstances, such targets may need to be revised depending on how the situation unfolds in the near future. The market shall be informed of developments relevant to the Group and the performance of its various business lines.
The equity closed flat at €1.46. Three deals of a mere 3,200 shares were executed.
Last Monday, the board of Plaza Centres plc approved its consolidated financial statements for the year ended December 31, 2019. The group registered a strong financial performance with average occupancy increasing by three percentage points, reaching 91% in 2019. In line with this positive performance, group registered an 8.56% increase in revenue, when compared to the previous year, as it amounted to €3.55 million. Earnings before interest, taxation, depreciation and amortisation also registered a 10.8% increase from 2018, as it stood at €2.86 million. The group's profit before tax was up by 19% to €1.87 million. Likewise, the earnings per share increased from €0.0388 to €0.0481.
Nevertheless, the board has also highlighted its difficulty in making financial predictions going forward on back of the COVID-19 virus impact, as retail operations are amongst the worst hit sectors of the economy. During the annual general meeting, to be held on July 28, 2020, the directors have resolved to recommend the payment of a final net dividend of €320,000 to all shareholders. This amounts to a total net dividend of €0.0113 to be proposed. The cut-off date for eligibility to dividends shall be June 26, 2020 and accordingly only shareholders on the register of members on that date shall be eligible to receive the dividend, once approved by the shareholders at the annual general meeting.
The equity did not record any trading activity during the week.
Last Monday, the board of Grand Harbour Marina plc approved the financial statements for the period ended December 31, 2019, and resolved they be submitted for shareholders' approval at the forthcoming AGM. Total revenue declined by 13% to €4.12 million due to the decreases in pontoon and superyacht visitors. Meanwhile, profit before tax declined by 37.8%, as improved operating expenses and performance in the IC Cesme Marina investment in Turkey were more than offset by declining revenues from the marina in Malta. Earnings per share decreased from €0.021 to €0.011.  No dividends were declared by the company for 2019. The equity was not active during the week.
Last Wednesday, GlobalCapital plc announced that the audit work of the financial statements for the year ended December 31, 2019 is at an advanced stage. Regrettably, however, the COVID-19 pandemic has placed time and logistical constraints on the financial statements' preparation and audit process, resulting in some delays for the finalisation and publication of such statements.  These are expected to be published by no later than May 7, as the directors shall be meeting to consider and if deemed appropriate, approve these audited financial statements. No trading activity was recorded during the week.
Trident Estates plc registered a double-digit gain of 14.8% on Monday, as 21,000 shares were spread across five transactions. The equity ended the week at €1.55 – a six-week high.
The MSE MGS Total Return Index increased by 0.06% as it reached 1,122.68 points. The European market is expected to see a surge in credit demand in the second quarter. The European Central Bank announced that it shall loosen the lending conditions for banks as Eurozone firms are rushing for emergency loans. This will be done through government guarantees and liquidity measures.
In the local sovereign market, the Accountant General announced the auction results and allocation of the May 2020 issue of Fixed Rate Malta Government Stocks. During the week, a total of 14 issues were active, of which three headed north while another five closed in the opposite direction. The 5.25% MGS 2030 (I) headed the list of gainers with a 1.4% increase in price, to close at €148.00. Conversely, the 2.4% MGS 2041 (I) registered a 5.1% drop in price, ending the week at €131.00.
The MSE Corporate Bonds Total Return Index closed at 1,059.18 points, translating into a 0.66% weekly increase. Out of 48 active issues, 23 traded higher while another 11 closed in the red. The 5% Mediterranean Investments Holding plc Unsecured € 2022 was the best performer as it closed 6% higher at €97.50. On the other hand, the 5.1% 6PM Holdings plc Unsecured € 2025 closed 4.55% lower at €94.50.
In the Prospects MTF market, nine issues were active. The 5% Busy Bee Finance Company plc Unsecured € 2029 was the most liquid, as it generated a total turnover of €81,920.
During the week numerous companies, whose bonds are listed on the MSE main market and Prospects market, have also published updates on their finances and COVID-19 impact and guidance.
Best Performers:
1. TML
+16.44%
06 MAY 2020
MT: Malita Investments plc – Annual General Meeting
2. TRI
+14.81%
07 MAY 2020
MT: GlobalCapital plc – Results
3. RS2
+3.00%
13 MAY 2020
MT: Trident Estates plc – Results
27 MAY 2020
MT: Simonds Farsons Cisk plc – Results
Worst Performers:
29 MAY 2020
MT: Medserv plc – Results
1. MSC
-6.25%
2. LOM
-5.66%
3. GO
-5.61%
| | | | | |
| --- | --- | --- | --- | --- |
| | Price (€): 30.04.2020 | Price (€): 24.04.2020 | Weekly Change (%) | 2020 Performance (%) |
| MSE Equity Total Return Index | 8,283.810 |  8,224.722 | 0.718 | -13.851 |
| BMIT Technologies plc | 0.480 | 0.494 | -2.93 | -7.69 |
| Bank of Valletta plc | 1.050 | 1.060 | -0.94 | -0.94 |
| FIMBank plc (USD) | 0.470 | 0.470 | 0.00 | -21.67 |
| GlobalCapital plc | 0.230 | 0.230 | 0.00 | -17.86 |
| Grand Harbour Marina plc | 0.750 | 0.750 | 0.00 | 36.36 |
| GO plc | 3.700 | 3.920 | -5.61 | -13.15 |
| Harvest Technology plc | 1.460 | 1.460 | 0.00 |  -2.67 |
| HSBC Bank Malta plc | 1.020 | 1.000 | 2.00 | -21.54 |
| International Hotel Investments plc | 0.600 | 0.600 | 0.00 | -27.71 |
| Lombard Bank plc | 2.000 | 2.120 | -5.66 | -12.28 |
| Loqus Holdings plc | 0.080 | 0.080 | 0.00 | 24.03 |
| MIDI plc | 0.396 | 0.396 | 0.00 | -26.67 |
| Medserv plc | 0.890 | 0.890 | 0.00 | -19.09 |
| Malta International Airport plc | 5.100 | 5.050 | 0.99 | -26.09 |
| Malita Investments plc | 0.850 | 0.840 | 1.19 | -5.56 |
| Mapfre Middlesea plc | 2.260 | 2.260 | 0.00 | 4.63 |
| Malta Properties Company plc | 0.550 | 0.550 | 0.00 | -12.70 |
| Main Street Complex plc | 0.450 | 0.480 | -6.25 | -25.00 |
| MaltaPost plc | 1.200 | 1.200 | 0.00 | -8.40 |
| PG plc | 1.850 | 1.820 | 1.65 | 0.54 |
| Plaza Centres plc | 0.970 | 0.970 | 0.00 | -3.96 |
| RS2 Software plc | 2.060 | 2.000 | 3.00 | -3.74 |
| Simonds Farsons Cisk plc | 8.300 | 8.150 | 1.84 | -27.83 |
| Santumas Shareholdings plc | 1.360 | 1.360 | 0.00 | -3.55 |
| Tigné Mall plc | 0.850 | 0.730 | 16.44 | -5.56 |
| Trident Estates plc | 1.550 | 1.350 | 14.81 | 0.00 |
* Trading commenced on January 7, 2020.
This article, which was compiled by Jesmond Mizzi Financial Advisors Limited, does not intend to give investment advice and the contents therein should not be construed as such. The Company is licensed to conduct investment services by the MFSA and is a Member of the Malta Stock Exchange and a member of the Atlas Group. For further information contact Jesmond Mizzi Financial Advisors Limited at 67, Level 3, South Street, Valletta, or on Tel: 21224410, or email [email protected].