MSE Trading Report for Week ending 05 May 2023
Movement in Equity and Bond Indices:
The MSE Equity Total Return Index manages to sustain five consecutive weeks of gains, closing 2.4% higher at 7,807.571 points. Out of 17 equities, five headed north while another six closed in the opposite direction. A total weekly turnover of €0.75m was generated across 132 transactions, similar to the previous week.
The MSE MGS Total Return Index gained ground, closing at 878.964 points, equivalent to a 0.3% increase. A total of 14 issues were active, 10 of which registered gains, while another three closed in the red. The 3.4% MGS 2027 (VI)was the top gainer with a 1.8% change in price, closing at €102. On the other hand, the 2.90% MGS 2032 (VI) lost 0.2%, ending the week at €95.
The MSE Corporate Bonds Total Return Index advanced by 0.4% as it closed the week at 1,155.706 points. Out of 51 active issues, 23 advanced, while another 11 traded lower. The best performance was recorded by the 4.5% Shoreline Mall plc Secured € 2032, which closed 4.9% higher at €95.99. Conversely, the 4% MIDI plc Secured € 2026 declined by 2.5% to €99.
Positive sentiment in the financial sector dominated the market. Bank of Valletta plc was the most liquid equity during the four-day trading week, recording €0.5m in turnover across 68 deals. The banking equity closed at a weekly high of €1.16, a price last seen three and a half years ago. This translated to an increase of 12.6% over the week, following strong quarter one results announced on Thursday.
The share price of HSBC Bank Malta plc advanced by 4%, to close at the €1.04 price mark reached earlier this year. A total of 12 transactions worth €0.1m were executed.
A total of 55,689 APS Bank plc shares were active, spread across 10 deals. As a result, the share price declined to the €0.605 price level, lower by 2.4%.
LifeStar Holdings plc registered a three-fold increase in share price, from €0.30 to €0.90, albeit on slim volume, worth just €1,338.
In the property sector, Malta Properties Company plc joined the list of gainers with a 1.4% increase, as a result of four deals involving 7,808 deals.
Hili Properties plc followed suit, ending the week at €0.228. Five deals of 37,950 shares resulted into a 14% positive movement in price.
VBL plc headed the list of losers after three deals of 55,500 shares pushed the equity into negative territory, down by 8.3% to €0.22.
In the same sector, the share price of AX Real Estate plc retracted by 5.1%. The equity ended the week at €0.45 as 13,866 deals changed hands across two deals.
Similarly, a sole deal of 10,000 BMIT Technologies plc shares resulted in a 1.8% decline in share price. BMIT closed at €0.426.
Retail conglomerate, PG plc, was active across a single transaction of trivial volume. This translated into a 0.5% decline to €1.98.
Bank of Valletta plc published the bank's interim directors' statement.  The BOV group reported a profit before tax of €46.5m for the first quarter of 2023, up by €24m from the same period last year. Revenues at €95.5m were €36.6m higher when compared to the same quarter of 2022, almost entirely generated by growth in net interest income. The bank estimates that around one-fifth of this growth reflected the pass-through of the increase in interest rates effected by the European Central Bank, mainly to euribor-denominated loans to business customers. The bank announced that the company's AGM will be held on May 25, 2023.
The board of Grand Harbour Marina plc resolved to distribute a gross dividend of €0.0195 per ordinary share. This dividend will be paid on May 30, 2023 who are on the company's share register as at the close of business on May 23, 2023.
Hili Properties plc announced that the forthcoming AGM will be held on June 27, 2023. The board resolved to recommend the payment of a net dividend of €0.0108 per share to shareholders on the company's share register as at June 27, 2023.
The Convenience Shop (Holdings) plc announced the basis of acceptance with respect to the 7,700,000 ordinary shares offered at an issue price of €0.97 per share, which were fully subscribed by authorized financial intermediaries. The 7,700,000 shares, representing 25% of the total issued share capital of the company, are expected to be admitted to the official list of the Malta Stock Exchange on May 10, 2023, and trading will commence on May 11, 2023.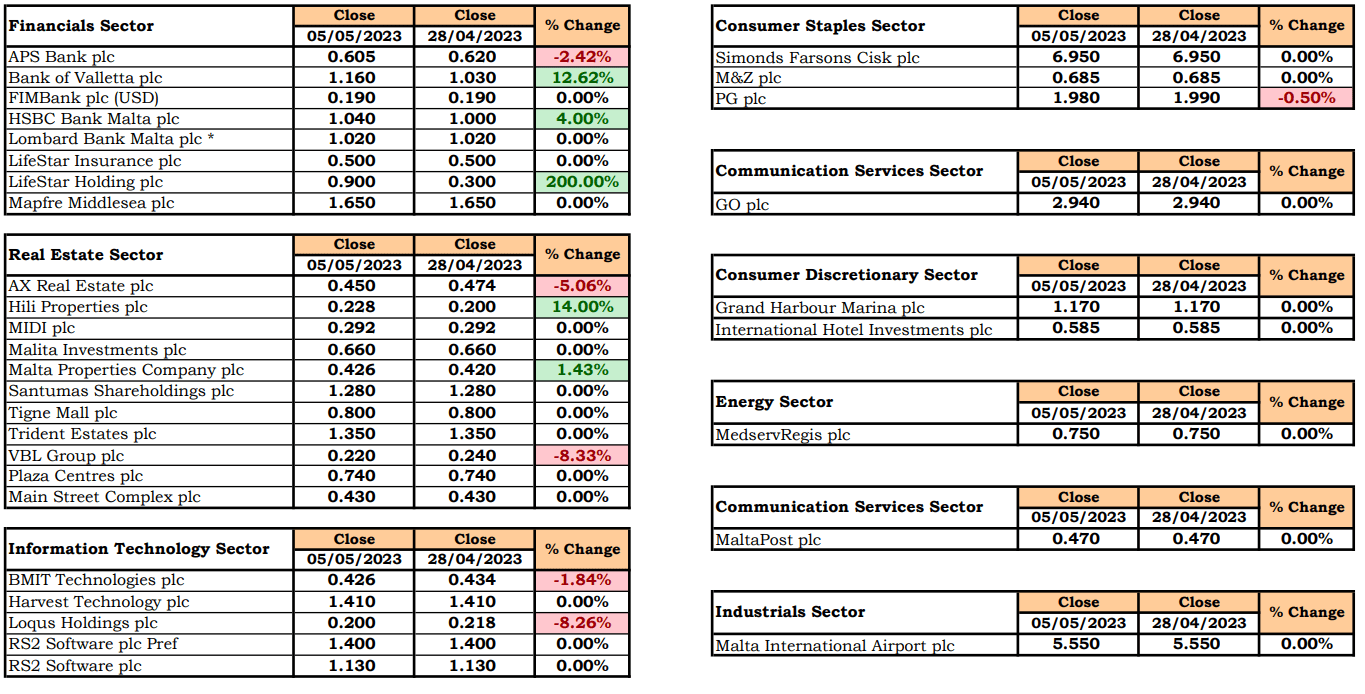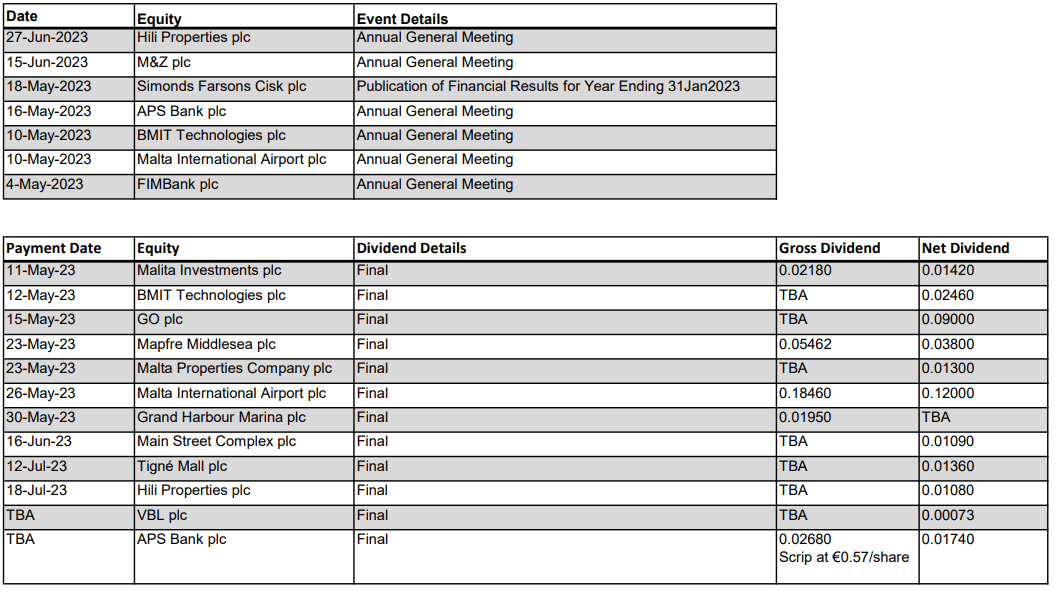 This article, which was compiled by Jesmond Mizzi Financial Advisors Limited, does not intend to give investment advice and the contents therein should not be construed as such. The Company is licensed to conduct investment services by the MFSA and is a Member of the Malta Stock Exchange and a member of the Atlas Group. The directors or related parties, including the company, and their clients are likely to have an interest in securities mentioned in this article. Jesmond Mizzi Financial Advisors Limited is acting as sponsoring brokers for the upcoming BNF Bank plc bond issue. For further information contact Jesmond Mizzi Financial Advisors Limited at 67, Level 3, South Street, Valletta, or on Tel: 21224410, or email [email protected]