MSE Trading Report for Week ending 23 June 2023
Movement in Equity and Bond Indices:
The MSE Equity Total Return Index extended this month's decline further, having lost 1.1% on the week, to close at 7,792.342 points. A total of 22 equities were active, eight of which registered gains, while nine traded lower. Turnover declined by €0.1m, as it stood at €0.9m, generated across 154 transactions.
The MSE MGS Total Return Index registered a 0.1% drop as it reached 875.491 points. A total of 21 issues were active, seven of which headed north, while another 13 closed in the opposite direction. The best performance was recorded in the 3.40% MGS 2042 (I) as it closed 1.2% higher to €92.51.
The MSE Corporate Bonds Total Return Index ended the week with a negative 0.2% change at 1,147.692 points. Out of 53 active issues, 15 gained ground, while another 19 closed in the red. The 4.3% Mercury Project Finance plc Secured € 2032 was the top performer as it closed 3.1% higher to €99.50. Conversely, the 3.65% International Hotel Investments plc Unsecured € 2031 lost 5.1%, to close at €89.02.
Bank of Valletta plc shares retreated by 4% to end the week at €1.20. A total of 148,579 shares were dealt across 28 transactions. Despite the decline, the share price remained 48% above the opening price for the year.
Similarly, APS Bank Malta plc concluded the week at a weekly low of €0.59, recording a decline of 4.8%. This decline was the result of 14 transactions as 31,516 shares changed hands.
Lombard Bank Malta plc failed to sustain an intra-week high of €0.97, ending the week at its three-month low of €0.90 – a decline of 6.3%. This decline was the result of four transactions involving a total of 7,002 shares.
On the other hand, HSBC Bank Malta plc gained 3.5% over the previous week's share price, as its closing price read €1.20. A total of 12,000 shares changed hands across eight deals.
On Friday, MedservRegis plc (MDS) was involved in three transactions, with a total of 53,500 shares being traded. The equity experienced a significant decline of 24%, equivalent to a decrease of €0.16. As a result, MDS concluded the week at its two and a half year low of €0.51.
On Monday, Tigne Mall plc traded twice across 703 shares. The share price experienced a decline of 13.6% to close at €0.70.
Simonds Farsons Cisk plc registered a 2% decline in share price as a result of two deals on trivial volume. The equity ended the week at €7.10.
GO plc experienced a positive movement of 3.5% in price to €3.00, with nine transactions resulting in a turnover of €25,383.
Retail conglomerate PG plc began the week at a higher price of €1.92 and ended with a gain of 2.7% at €1.94. This increase was the outcome of eight transactions involving 26,224 shares.
Hili Properties plc recorded an impressive €251,940 in trading turnover, generated across four deals of 1.1m shares. The share price remained at the €0.228 level.
The AGM of Lombard Bank Malta plc was held on Thursday, all seven resolutions on the agenda were approved.
Trident Estates plc announced that it held its 23rd AGM on June 16, 2023. All proposed resolutions were approved by the shareholders.
Harvest Technology plc issued an update on the company's business performance outlook for the current financial year. In the past months, ApcoPay, has undertaken significant investment to upgrade its payment gateway system to a cloud-based gateway. The development of the new gateway has proved highly demanding, and has resulted in significant additional labour resources and operating costs.
The group anticipates a slight increase in revenue compared to the previous year, however profitability is expected to be lower due to the aforementioned additional investment in the platform. Based on the current forecast for the full year ending December 31, 2023, the board expects the group to achieve higher consolidated revenue of circa €20.4m compared to the €16.3m achieved in the previous year.
The AGM of MIDI plc was held on June 19, 2023 where all resolutions on the agenda were approved.
LifeStar Insurance plc and LifeStar Holding plc announced that both AGMs were held on June 19, 2023. All resolutions which were presented for the consideration of the shareholders at both AGMs were approved.
The board of AX Real Estate plc announced that it is scheduled to meet on June 26, 2023 to approve the company's half yearly financial report and six-month unaudited financial statements for the period ended April 30, 2023. The declaration and payment of an interim dividend to its shareholders will also be considered.
The AGM of Tigne Mall plc was held on June 22, 2023. All resolutions on the agenda were approved.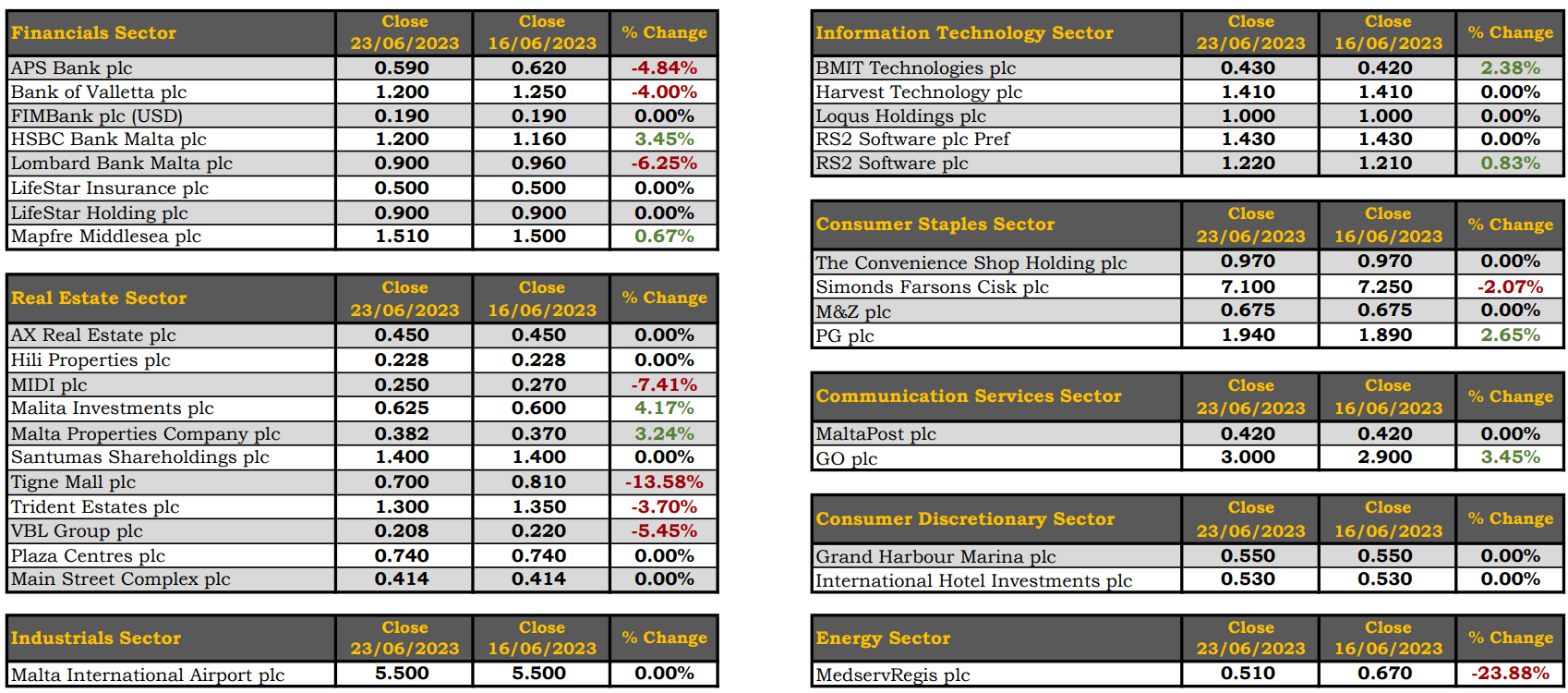 This article, which was compiled by Jesmond Mizzi Financial Advisors Limited, does not intend to give investment advice and the contents therein should not be construed as such. The Company is licensed to conduct investment services by the MFSA and is a Member of the Malta Stock Exchange and a member of the Atlas Group. The directors or related parties, including the company, and their clients are likely to have an interest in securities mentioned in this article. Jesmond Mizzi Financial Advisors Limited is acting as sponsoring brokers for the upcoming BNF Bank plc bond issue. For further information contact Jesmond Mizzi Financial Advisors Limited at 67, Level 3, South Street, Valletta, or on Tel: 21224410, or email [email protected]