MSE Trading Report for Week ending 14 July 2023
Movement in Equity and Bond Indices:
The MSE Equity Total Return Index headed south, declining by 0.8% to 7,908.308. A total of 19 equities were active, as four headed north while another 11 closed in the opposite direction. Turnover was just below €0.6m, €1m lower than the previous week. A total of 152 transactions were executed.
The MSE MGS Total Return Index continued to decline, as it settled at 868.221 points, equivalent to a 0.4% decrease. Ten issues were active, three of which headed north while seven went south. The best performer was the 2.1% MGS 2039 (I) as it gained 4.3% to €82.00. The worst performer was the 3.4% MGS 2027 (VI), as it eased by 1.8%, to close at €99.18.
The MSE Corporate Bonds Total Return Index remained in positive territory, as it closed 1.1% higher at 1,160.333 points. A total of 55 issues were active, 23 of which advanced while another 12 closed in the red. The 3.75% Premier Capital plc Unsecured € 2026 headed the list of gainers, as it closed 4.2% higher at €99. On the other hand, the 3.5% AX Real Estate plc Unsecured € 2032 lost 2.6%, ending the week at €92.50.
HSBC Bank Malta plc kicked off the week with a positive 1.7% gain but ultimately closed 3.3% lower at €1.16.
On the contrary, the share price of Bank of Valletta plc advanced by 0.8% in the final hour of trading on Friday. The banking equity closed at €1.24 as a result of 63 deals generating a total turnover of €235,228.
A decline of 4.7% in the share price of International Hotel Investments plc, dragged the equity to the €0.505 price level. Five deals of 20,185 shares were executed, generating a total turnover of €10,490.
A total of 10 transactions involving 3,920 Simonds Farsons Cisk plc shares, saw the share price move 3.6% lower. The equity ended the week at €6.75.
The share price of Trident Estates plc reached a weekly low of €1.25 but managed to close the week at €1.26. The equity declined by 6.7% as a result of two trades on a volume of 3,079 shares.
Loqus Holdings plc plummeted by 65% to the €0.35 price level, as a single deal involving the exchange of 500 shares was recorded.
BMIT Technologies plc retracted by 2.4% as a result of a single deal executed on Tuesday. The share price closed the week €0.01 lower at €0.41, as a result of four deals of 7,825 shares.
MIDI plc registered a 4.4% decline, ending the week at €0.258, having recovered from a weekly low of €0.232. This was the outcome of 7,900 shares executed across four deals.
MaltaPost plc share value jumped 7.1% to €0.45. This was the outcome of two transactions of 6,000 shares.
Retail conglomerate, PG plc, closed in the green, finishing the week at €1.96. The equity registered a positive 1% movement in price as a result of 10,700 shares exchanging hands across six deals.
The board of GO plc is scheduled to meet on July 18, 2023 to discuss and if deemed appropriate approve the payment of an interim dividend.
On Tuesday, Malta International Airport plc (MIA) announced June's traffic results. The first half of 2023 concluded on a positive note as a total of 754,258 passenger movements were registered throughout the month of June. This figure not only represents a substantial increase of 4.5% over the passenger traffic handled during same month in 2019, but also marks the end of an encouraging quarter for the airport, as June became the third consecutive month during which the 700,000-passenger mark was reached.
Traffic through MIA peaked on June 29, as 30,419 departing and arriving passengers took advantage of the four-day bridge weekend that coincided with the end of the academic year for most educational institutions in Malta. While seat capacity surpassed 2019 volumes by 1.8%, standing at 873,580 seats, load factor also showed a marked improvement, rising from 84.1% in June 2019 to 86.3% last month.
MIA's performance in June brought year-to-date traffic up to 3,434,470 passenger movements, exceeding the traffic volumes handled during the first half of 2019 by 5.6%.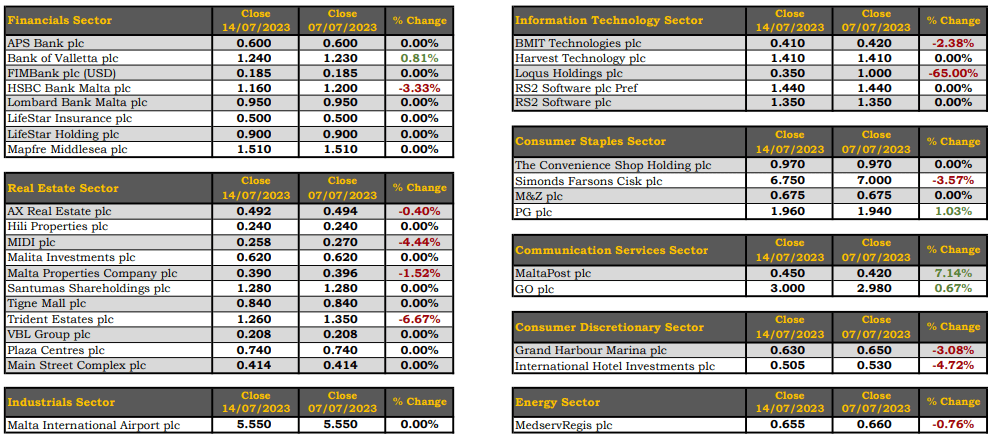 This article, which was compiled by Jesmond Mizzi Financial Advisors Limited, does not intend to give investment advice and the contents therein should not be construed as such. The Company is licensed to conduct investment services by the MFSA and is a Member of the Malta Stock Exchange and a member of the Atlas Group. The directors or related parties, including the company, and their clients are likely to have an interest in securities mentioned in this article. Jesmond Mizzi Financial Advisors Limited is acting as sponsoring brokers for the upcoming BNF Bank plc bond issue. For further information contact Jesmond Mizzi Financial Advisors Limited at 67, Level 3, South Street, Valletta, or on Tel: 21224410, or email [email protected]