MSE Trading Report for Week ending 20 January 2023
Movement in Equity and Bond Indices:
The MSE Equity Total Return Index returned to negative territory, as it closed 1.6% lower at 7,339.686 points. A total of 14 issues were active, nine of which headed south, while just one equity posted gains. Total weekly turnover amounted to €0.8m, generated across 107 transactions.
The MSE Corporate Bonds Total Return Index registered a 0.03% positive movement, as it closed at 1,123.091 points. A total of 55 issues were active, 14 of which traded higher, while another 27 lost ground. The 3.5% Bank of Valletta plc € Notes 2030 S2 T1 was the best performer, as it closed 11.2% higher at €91.85. On the other hand, the 3.5% Simonds Farsons Cisk plc Unsecured € 2027 ended the week 9.1% lower at €90.01.
The MSE MGS Total Return Index advanced by 1%, as it reached 886.6 points. Out of 20 active issues, 14 advanced, while another three closed in the red. The 5.2% MGS 2031 (I) issue headed the list of gainers, as it closed at €115.18, equivalent to a 2.6% change. Conversely, the 3.3% MGS 2024 (I) issue closed 2.9% lower at €101.
Malta International Airport plc (MIA) was the most liquid equity, as it generated a total turnover of €0.33m – translating into a third of total turnover registered across all active equities. MIA reached €5.75 last Thursday, but closed the week 0.9% lower at €5.60. This was the result of 28 deals involving 59,877 shares.
HSBC Bank Malta plc (HSBC) shares failed to sustain a weekly high of €0.80 reached on Friday, ending the week at the €0.735 price mark. By end of Friday's session, the bank's equity plummeted by 6.4% on the previous week's price, as 108,391 shares exchanged ownership across 24 transactions.
APS Bank plc (APS) was the only positive performer during the week. The equity joined the list of gainers on Friday, after trading flat during the week. APS closed the week at €0.605, higher by 0.8%. This was the outcome of nine transactions worth €22,204.
Bank of Valletta plc ended the week in the red at €0.90, equivalent to a 3.2% change in price. This was the outcome of 12 deals involving 33,707 shares.
In the hospitality sector, International Hotel Investments plc shares retracted by 4.9% to end the week at €0.58. A total of 13,100 shares were spread across four transactions.
RS2 Software plc shares lost 0.8%, to end the week at €1.18. During the week, the equity was active at a weekly high of €1.19 and a low of €1.14. A total of 123,435 shares changed hands across 12 transactions worth €145,290.
BMIT Technologies plc traded 2.2% lower at €0.45, as two deals involving 4,000 shares were executed.
Two deals of 988 GO plc shares dragged the share price on Tuesday to the €2.78 price level. This translated into a 0.7% negative movement in price.
The share price of Simonds Farsons Cisk plc retracted by 0.7% as a result of a sole deal of trivial volume. The equity finished the week at €7.25.
Retail conglomerate PG plc, closed at €2.06, a price last seen in July 2022. The share price retracted by 1% as 47,884 shares exchanged ownership across five deals.
On Wednesday, MIA announced its five-year investment plan which is set to be transformational for the company. MIA will be investing €175m in the evolution of the airport campus, €39m of which are planned to be disbursed during 2023. Immediate projects, which are slated for completion in 2023, include doubling the current footprint of the customs area, unveiling a covered walkway linking Park East to the terminal, and freshening up the food and beverage offering with the introduction of two new outlets. Meanwhile, works on the €40m Apron X project, which will boost Malta International Airport's aircraft parking capacity and its ability to handle mixed-fleet operations, have picked up the pace, as the company eyes summer 2024 for the completion and utilization of the first parking stands.
The company's financial targets for 2023 are as follows; total revenue and EBITDA are expected to reach €97m and €59m, respectively, while net profit is projected to be €29m.
The board of MaltaPost plc (MTP) resolved that it would be in the best interest of the company to recommend to its shareholders a share split of the company's shares on a two for one share basis. This will result in every one share having a nominal value of €0.25 being split into two shares, each with a nominal value of €0.125. The proposed share split is intended to allow easier access to a larger number of investors which should improve trading liquidity in the company's shares. MTP will be seeking shareholders' approval of the above share split at the AGM which is scheduled to take place on February 16, 2023.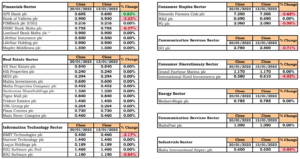 | | |
| --- | --- |
| 31 January 2023 | MT: Loqus Holdings – Annual General Meeting |
| 02 February 2023 | MT: MaltaPost plc – Annual General Meeting |
| 16 March 2023 | MT: MaltaPost plc – Dividend Payment Date |
| | |
| | |
| | |
This article, which was compiled by Jesmond Mizzi Financial Advisors Limited, does not intend to give investment advice and the contents therein should not be construed as such. The Company is licensed to conduct investment services by the MFSA and is a Member of the Malta Stock Exchange and a member of the Atlas Group. The directors or related parties, including the company, and their clients are likely to have an interest in securities mentioned in this article. Jesmond Mizzi Financial Advisors Limited is acting as sponsoring brokers for the upcoming BNF Bank plc bond issue. For further information contact Jesmond Mizzi Financial Advisors Limited at 67, Level 3, South Street, Valletta, or on Tel: 21224410, or email [email protected]